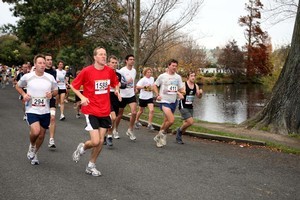 Helenann Williams was walking the Bridle Path in Christchurch when the earthquake hit and she vowed that if she lived she would do the 10km in the Christchurch marathon.
"It was awful, a real-life nightmare," said the 58-year-old remembering the day in February when the earthquake ravaged the city.
Father-of-two Owen Wright, 40, was killed later that day on the Bridle Path - the oldest track in Canterbury and the original route from Lyttelton to Christchurch - when he was crushed by a boulder as an aftershock dislodged it when he was transporting walkers in his Land Rover.
Williams said making her way home in a state of panic and disbelief was a moment she would remember forever. She extends herself tomorrow by running her first 10km event.
"Everyone was in total shock and we just wanted to get home. I vowed to myself that day that I would run if I lived and I think there are a lot of people like me who are grateful to be alive and want to do something special."
Aucklander Darrin Heaven is a 46-year-old police constable who has been deployed in Christchurch to stop looters and help the city with Operation Earthquake.
"The spirit of the people of Christchurch has been incredible," said Heaven, who hopes to run about four hours for the marathon tomorrow.
"It is amazing to see the resilience down here. People show their character in hard times and the number of people signed up for this run sums that up. They are just getting on with life."
Stuart Bennett is a 57-year-old service manager who will compete in the Christchurch event for the 30th time. He said there was no magic formula for his longevity.
"You just keep at it I guess," said Bennett, who aims to run about 1h 40m for the half marathon.
"I have an athletics certificate from 1959. Running is all about doing the hard yards. I recommend to all young runners out there to run 3km and then do 100 skips. That will get you fit."
Bennett, who lives in Timaru, runs about 40km a week with his local Harriers club.
"It is great to see this event going ahead. I was up there at River Rd and if they ran it there it would be like a steeple chase," he said.
Marathon race favourite and two-time winner Phil Costley, who moved from Christchurch to Nelson just before the earthquake, was one of the first to sign up as a show of support after the earthquake.
If he wins he'll be the first veteran to win the race because he's now 41.
It doesn't matter what your reasons are for competing in tomorrow's SBS Christchurch marathon. The event will unite the city and help many Cantabrians get back on their feet.
With the traditional marathon course and Town Hall venue in ruins, about 3500 runners and walkers of all ability are expected on a makeshift new route to keep the proud history of the event going.
The Christchurch marathon dates back to 1981 when it was inspired by one of the great runs around the Garden City streets.
In the 1974 Christchurch Commonwealth Games, on the same basic route that runners normally follow, Britain's Ian Thompson ran the then second-fastest marathon of all time.
Rather than cancel the event this year the organisers created an alternative course at Lincoln, on the outskirts of Christchurch City.
It will be based within Lincoln University and take in residential streets and the surrounding rural roads.
It is flat and fast and will include the traditional full marathon, half marathon, 10k and kids' "mara'fun" events.
"Normally I would say the course is what makes this event special but this year it's the people," said event director Guy Steven, 48, who has been involved with the Christchurch marathon since 1997.
"Events like this are important in times like this as they give people something to do, something to focus on and take their minds off the city in ruins."
Steven was humbled to have more than 3500 athletes ready for the run. "That is testament to the people of Christchurch."
This Christchurch event has a proud history. It celebrated its 30th anniversary last year, and it is seen as important to keep it going.
"We've had events with runners out there in the snow and the hail so we weren't inclined to let an earthquake get in the way."
Many runners are also paying tribute to a stalwart of the SBS Marathon, Brian Taylor, who died in the February earthquake.
For every runner with his or her own desire to compete tomorrow, reaching the finish line will be an emotional time.
"It will be a huge relief," said Williams. "It will mean I don't have to run 12km anymore. Everyone has their own reasons for running this event and that will make it a pretty special day. I know I will be reflecting on what might have been."

Records
Christchurch marathon and half marathon records:
Men's open marathon
* 1985 Tom Birnie (Christchurch) 2:15.12
Women's open marathon
* 1982 Naenai Sasaki (Japan) 2:35.00
Men's veteran marathon
* 1981 Jack Foster (Rotorua) 2:22.48
Women's veteran marathon
* 1988 Bernie Portenski (Wellington) 2:41.41
Men's open half marathon
* 2002 Jonathan Wyatt (Wellington) 1:02.37
Women's open half marathon
* 2005 Nina Rillstone (Auckland) 1:10.49
Men's veteran half marathon
* 2010 Phil Costley (Christchurch) 1:06:01
Women's veteran half marathon
* 2003 Nyla Carroll (Auckland) 1:12.28
Coming up
Tomorrow
Multisport
3D Rotorua - Off-road Winter Multisport Festival, Lake Okareka, Whakarewarewa Forest and the Redwoods, Rotorua. Six events.
Running
SBS Marathon Christchurch. Marathon run (42.2km), half marathon run & walk (21.1km), 10k run & walk kids mara'fun (2km or 5km)
June 11
Multisport
Maungatautari Mission, Cambridge to Lake Karapiro - 32km road bike, 15km mountain run, 15km road cycle, 10km flat water kayak.
June 12
Mountain biking
Galaxy Travel NDuro winter MTB series, Rotorua
Running
Xterra Auckland trail run series event 2, Shakespear Regional Park. Short 5-8km, mid 10-14km, long 16-20km, super-long 21km+ (short and mid courses can be walked).