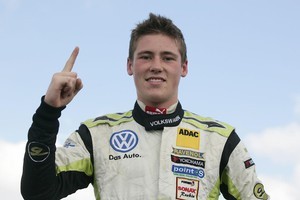 Despite his dominant form in the German Formula Three championship - winning four of the six races so far in the series - young New Zealand open wheel pilot Richie Stanaway has only a four-point lead at the top of the table.
His closest rival is Denmark's Marco Sorensen and he'll be keen to keep the Kiwi honest at the fourth round of the championship this weekend at the TT Circuit Assen, in Holland. The pair are 20-plus points ahead of Klaus Bachler, who in turn is just four points in front of another Kiwi, Tom Blomqvist.
This weekend is a "home" event for Stanaway as his team, Van Amersfoort Racing, are a Dutch outfit that know the track well and are keen to race in front of a local crowd.
"It's one of my favourite tracks and it's usually a good weekend for me here," said Stanaway. "I like the circuit and our cars seem to go well around circuits like this and we were really fast here in pre-season testing.
"I don't want to set the expectations too high but with our speed I'm really, really hoping we can have a successful weekend. Coming into my first season in Formula Three there's been a lot to learn, especially in qualifying and the starts."
In 2007, Stanaway won the SpeedSport Scholarship and Rookie of the Year, and went on to win at the New Zealand Formula First Association's Annual One-Hour Race at Manfeild.
Stanaway moved up from karts into the Formula Ford championship for the 2008/09 season, racing a Mygale chassis for the first time in New Zealand. He clinched the title with one race to spare at the last round of the championship at Pukekohe, as well as the Ron Frost Memorial Trophy.
Other than Shane Van Gisbergen, Stanaway is the only other driver to win the series in his rookie year. Last year, in his first foray into Europe, Stanaway cleaned up in Germany, winning the ADAC Formula Masters series at the Nurburgring with a round to go. After winning 12 of the 18 races, and not contesting the final round, the then 18-year-old amassed 315 points, 60 more than his nearest rival Patrick Schranner.
Stanaway will look to increase his slight advantage over Sorensen this weekend. He has four wins from six races while Sorensen has six podiums and two pole positions.
"Hopefully we can maintain or even extend our championship lead. We're almost halfway through the season now and it's important to keep scoring the points. Marco's been on the podium in every race and although we've managed to finish ahead of him quite a few times sometimes the points haven't always been there.
"Marco's got a lot more experience so it's not going to be easy so we'll just have to keep our momentum going."
If Stanaway can keep his good form and continue to impress with race wins, there'll be a number of teams from other championships who'll be keen to try to sign him up. And with the Superleague in town at the same time, it's a good opportunity for the young Kiwi to strut his stuff.
"I've had some very, very brief discussions about other options and the potential to move up to another class," he said.
"But I have to meet my objectives this year first before anything is sorted."
2010
* ADAC Formula Masters Champion with 12/18 race wins.
* 1st Dan Higgins Memorial Trophy - Toyota Racing Series.
* Race winner Formula Renault UK winter cup.