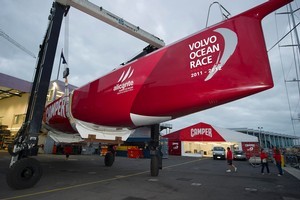 The anticipated competitive debut of Team New Zealand's entry for the Volvo Ocean Race has been put on hold, with skipper Chris Nicholson opting to withdraw from the Auckland-Fiji race beginning today.
Team New Zealand's striking new VO70 Camper yacht will still be on the startline in Auckland today, but they will peel away from the fleet early on in the race and head to the Southern Ocean for the next phase of testing sails, systems and crew training.
Nicholson said the decision was reluctantly made as weather forecasts indicate they will likely be sailing on the wind for all of the 1140 nautical mile race from Auckland to Musket Cove, while early forecasts suggest the return journey will also likely be upwind.
The crew had hoped to get in several days of down-wind and reaching conditions to test sails. "We had expected to get that on the way to and from Fiji and we would have been able to combine racing and testing. Our weather team says there will be headwinds for most of the trip to Fiji and a big chance of headwinds on the way back to Auckland," said Nicholson.
"We did plenty of up-wind work on the tour of New Zealand in early May and we were on the wind from Lyttelton to Three Kings Islands north of North Cape when we did the 2000 nautical mile qualifier."
Nicholson said while it is disappointing the crew will miss out on race experience, in the scheme of things it is more important that they test the boat in downwind conditions. After starting with the rest of Fiji fleet at noon today, Team New Zealand will peel off and head towards the Bay of Plenty. The yacht expects to call at Lyttelton on Monday where a decision on the direction of the remainder of the voyage will be made in light of an updated weather forecast.
The withdrawal of the Camper boat means TeamVodafoneSailing will start the race as overwhelming favourites, but the crew are mindful pushing their Orma 60 too hard in the difficult conditions could spell disaster. The 14-strong race fleet will pound into gale force winds North-Easterly winds of 30-40 knots, and swells of four metres.
The race still has the potential to last less than three days for TeamVodafone, but first priority is getting there safely, and slowing the boat down to look after it will be top of mind for skipper Simon Hull and his eight crew. "We don't want to send the boat airborne in big swells, so we will be sailing conservatively but with our eye on the race record," said crew member Patrick O'Reilly.
dana.johannsen@nzherald.co.nz