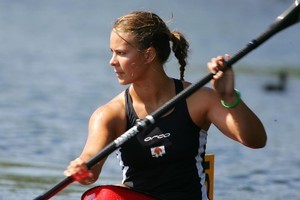 Lisa Carrington took a big step towards the London Olympics when she won the K1 200 at a World Cup regatta in Germany.
The Auckland-based 21-year-old emerged as a medal prospect in the new Olympic women's event after winning in Duisberg on a K2 500 training regime.
Raised in eastern Bay of Plenty, Carrington - the daughter of schoolteachers Patrick and Glynis - was a surf lifesaver who found kayaking in her mid-teens.
She is part of the new breed aiming to resuscitate a sport that has struggled to match old glories and had trouble with controversies.
Carrington takes a few questions from the Weekend Herald.

Is this your career highlight?
It is a highlight, but this wasn't the world champs ... it's great to know I'm knocking on the door, though. At least I have found out how I can go because I haven't raced the K1 in the past. I had high expectations but didn't expect to win.
I wouldn't call this the highlight, though, because I don't want to downplay what I've done with other people. But this is a massive stepping stone.
How strong was the field?
Pretty strong - a couple of the girls were in the A final last year (world championships) - one placed fourth and the other sixth. The main thing was my time - it was decent and a good enough result for me.
Has this changed your plans?
Definitely. My priorities are different now. It seems the K1 200 is where it is at for me, but to race in more than one event would be awesome. Winning has also put our sport in a positive light and shows we have a bit of potential for the Olympics. I'm encouraged because it is always hard lining up against these women who have world titles and things like that - you tend to put them on a pedestal when you are not racing against them.
NZ canoeing had plenty of negative publicity with a coaching controversy involving legends Ian Ferguson and Paul MacDonald. Were you affected by that?
Even though you try not to think about it too much, it was quite hard. It's our sport, our career. But if you have the right people around you, then you can block those things out. We lost some coaches and a high performance manager who were of value to the sport.
I'm no expert, but I think we are going in the right direction and we've got a really great coach.
Gordon Walker ...
Yes, he's the head coach but mainly based with the women. I've been coached by him only this year but he's very analytical, has a lot of facts, makes sure things are done right.
Did you have a childhood hero?
Cory Hutchings. I was part of surf lifesaving and he was real big when I was young. I always looked up to the New Zealand netball players - when you are a kid you want to become a Silver Fern.
What got you into kayaking?
I was in surf lifesaving and Ian Ferguson was holding a canoe camp in Rotorua, which was nearby. My dad thought it would help me out. Actually, I think my dad had a master plan and thought "she can go to the Olympics in this". I guess I was quite shy and wouldn't put myself out there, so he pushed me to do sport.
What is your main strength as a kayaker?
The power I can produce ... we do a lot of testing and that is one attribute that really helps me.
Your goal this year?
To qualify for the Olympics.
Your major career goal?
To win an Olympic gold medal. Maybe it won't happen next year, but that is the overall goal.
What do you love most about your sport?
Being able to race and train in different countries.
Anything you dislike?
The cold mornings. I start training between 6.30 and 7 - I know a lot of people get up a lot earlier ... but in winter it gets pretty cold.
Is there anything you would like to change in your sport?
I guess the numbers - our depth isn't quite there. We need that development so youngsters come through to replace people when they are finished.
What's the best advice you've been given?
I've been given plenty of good advice ... race your own race. Do the best you can do instead of worrying about what opponents are doing or trying to keep up with them. Quite a few coaches have told me that.
You are an East Coaster ...
I was born in Tauranga but brought up in Ohope and Opotiki - we moved around the bay a lot but spent most of my childhood in Ohope.
What do you miss about Ohope?
The beach. It is really chilled out down there. That is also a problem because you don't get along with the training.
chris.rattue@nzherald.co.nz