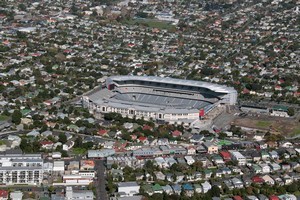 I know memory is an unreliable witness, but I could have sworn that in 2005, when we were awarded hosting rights to this year's Rugby World Cup, the reaction was overwhelmingly positive, if not euphoric.
Likewise, I could have sworn that the reaction to our being stripped of sub-hosting rights to the 2003 World Cup was overwhelmingly negative, the consensus being that it cost us millions of tourist dollars and a rare opportunity to participate in the staging of a major international event.
If recent media coverage is any guide, the thrill has well and truly gone. A new arrival could be excused for thinking it's a textbook example of why you should be careful what you wish for.
The main strand in this apparent disenchantment is that it's going to cost much more than we were led to believe.
But staging events of this scale always does, so it's a mystery why this should come as a surprise.
According to various economists who reckon the intangible benefits have been overstated, things aren't looking too flash on the other side of the ledger either.
I don't go all the way with Victorian essayist and historian Thomas Carlyle, who called economics "the dismal science". Apart from anything else, he coined the phrase in a tract advocating the reintroduction of slavery - but economists' pronouncements should be treated with caution.
In 1981, 364 economists wrote a letter to the Times warning that there was "no basis in economic theory or supporting evidence" to indicate that the tax increases and cuts to public spending enacted by Margaret Thatcher's Tory Government would do anything other than threaten Britain's social and political stability.
Shortly thereafter, economic recovery started and Britain began to shed the "sick man of Europe" tag.
In 1997, the Labour government implicitly endorsed Thatcherism by making the Bank of England independent.
The follow-up argument is that there are better ways to spend taxpayers' money. There always are. I've heard that said about conservation programmes, national parks, historic buildings, human rights and the armed forces, to name a few.
Prize-winning author Keri Hulme fired off a letter, whose strident inelegance suggested she hasn't spent her long seclusion obsessing over style, complaining about money being spent on "ephemeral crap".
As I suspect Hulme is, I'm all for money being spent on enduring crap like novels and movies, but I accept that some people regard government funding of the arts as a dilettantish squandering of resources that would be better deployed elsewhere.
Some grumble that this level of spending on sport is inappropriate in the current economic climate.
If those involved in the World Cup bid had foreseen the global economic crisis and the Canterbury earthquakes, perhaps it wouldn't have gone ahead. But they didn't, and we're stuck with it.
Then there's the complaint that this event has been foisted on a largely indifferent nation because the boys' club of rugby heads who run things ensure their game gets special treatment at the expense of other sports.
This narrative overlooks the fact that the bid was strongly supported by Helen Clark's Labour government, in which Trevor Mallard was conspicuous by being rugby's only friend.
A significant contributing factor to the loss of sub-hosting rights in 2003 was the government's refusal to give the NZ Rugby Union any financial backing. Perhaps because of the ensuing public outcry, Labour did an about-turn and threw its weight behind the 2011 bid. National has merely maintained that stance.
If you don't think the Government should spend taxpayers' money on hosting sporting events, find a political party that agrees with you and vote for it.
Don't rewrite history by portraying this as a gigantic swiftie engineered by an unrepresentative clique.
To Herald sports columnist Chris Rattue: "It's rugby's sense of entitlement that sticks in the craw, as well as the way it is allowed to run riot over real New Zealand."
Don't real New Zealanders play or follow rugby? How then did it ever become our national sport?
Rattue complained that in contrast to the largesse lavished on rugby, "league faced an investigation before Sparc funding continued with provisos".
You reap what you sow - no government in its right mind would have opened the public purse for league's benefit, given the incompetence and worse that has characterised its administration.
The critics can console themselves with the knowledge that we won't be doing it again for many years, if ever, but it's a little late in the day to be having this argument.
You don't have to love the World Cup or even like it, but to carp and bitch from here on will just emphasise the fact that there's an insular, killjoy streak in our national make-up.