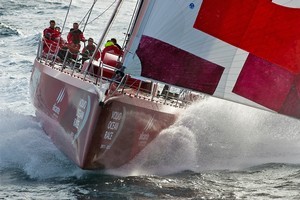 Team New Zealand have withdrawn from the Auckland-to-Fiji race starting tomorrow in favour of further testing yacht they will sail in the round-the-world Volvo Ocean Race.
Camper skipper Chris Nicholson today cited the expected conditions for the trip to Fiji as the reason for deciding to head to the South Island instead.
He said the sailing team needed several days of downwind and reaching conditions to test sails, but mostly headwinds were forecast both to and from Fiji.
"We did plenty of up-wind work on the tour of New Zealand in early May and we were on the wind from Lyttelton to Three Kings Islands north of North Cape when we did the 2000-nautical mile qualifier," he said.
"We collected an enormous amount of data over the three weeks and we don't need to repeat it. We lack data on downwind and reaching so, in view of the forecast, we're heading south rather than north."
He said Camper would start with the Fiji-bound fleet at noon and would then peel off towards Bay of Plenty.
The crew were due to call in at Lyttelton on Monday, when the weather forecast would determine where they went from there.
Team NZ are sailing in the Volvo race in collaboration Spanish footwear company Camper.
The race begins off Spain in late October and finishes off Ireland nine months later.
Among the ports on the itinerary is Auckland, where the fleet will have a three-week stopover in March and April.
- NZPA