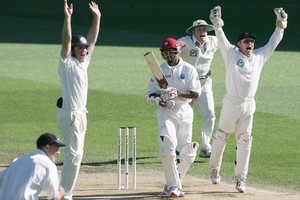 The chances of test cricket returning to Auckland on a regular basis any time soon are slim.
The last five-day international at Eden Park was in March 2006 when the West Indies were beaten by 27 runs.
Around then, New Zealand Cricket made a philosophical decision to move away from large grounds hosting tests - Christchurch's AMI Stadium fell into the same category - in favour of smaller, boutique-style venues, such as Hamilton's picturesque Seddon Park and Dunedin's redeveloped, tree-lined University Oval.
Among the reasons NZC were keen to get away from the large stadiums was that the small number of spectators drawn to test cricket would make it unsustainable.
Auckland Cricket had hopes of developing Eden Park's outer oval into a test-compliant venue once rugby's World Cup is finished in October.
Renovation work on the outer oval will start straight after the World Cup, but the Eden Park Trust Board has indicated to Auckland Cricket that it can't see a financial case for bringing the outer oval up to test standards.
The outer oval was given a provisional thumbs up, with qualifications, from an International Cricket Council inspection team a few seasons ago.
Auckland Cricket are returning to the outer oval from their temporary base at Colin Maiden Park for the start of the 2012-13 season and will play first-class and one-day cricket there.
With that backdrop, Auckland Cricket are hoping NZC will reconsider their policy on test venues.
England are due to play tests in New Zealand in that summer and would be a sizeable drawcard, with their traditionally large group of travelling supporters.
As it stands, Auckland Cricket chief executive Andrew Eade cannot see tests returning to Auckland in the immediate future, unless there is a change of view from NZC.
"Now we are coming back to the outer oval and Eden Park [Trust Board] has indicated it can't develop it in the immediate future, our position becomes simpler," Eade said.
"We don't think it's satisfactory for Auckland not to have test cricket. So there's no alternative but for NZC to reconsider it's policy, or grant an exemption to its policy.
"We're lobbying very hard - for commercial and population basis reasons - that it is wrong there aren't any tests here."
NZC chief executive Justin Vaughan understands the Auckland viewpoint.
"The board has committed to reviewing the policy on international matches in the next few months," Vaughan said yesterday.
"We believe hosting tests at boutique grounds is the best way to present test cricket with its size and environs, but we're also very mindful that we don't have a test venue in the two biggest cities in New Zealand."
The likelihood of hosting one of the three tests against South Africa, next summer is remote.
Hosting one against England the following summer is possible, but only if NZC can see the merits of it and if the sums add up.
Eden Park annually hosts ODI and T20 fixtures, which draw significantly larger crowds than test cricket. It has hosted 47 tests, second only to Wellington's Basin Reserve, which has been the venue for 51, with Christchurch having had 40.