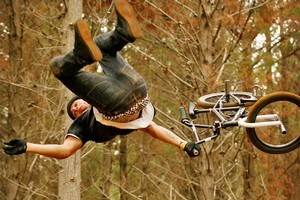 Taupo BMX rider Jed Mildon feels lucky to be alive after succeeding in a world-record stunt.
On Saturday the 24-year-old became the first person in the world to to do a triple backflip on his BMX bike.
But his elation at achieving the record was preceded by dread - he had dreamed he was going to die.
Mildon had to roll in from a 20-metre-high start ramp into a three-metre take-off ramp, do the stunt over a 10-metre gap and then land on an eight-metre-high landing ramp.
He admitted he had been nervous about it. "I actually had a dream three months ago that I was going to die soon and I thought this was the day, so I just committed 100 per cent and went for [the stunt] and, look, it came out good. Everyone's smiling, so I'm stoked." In the end, he told The Daily Post, "I knew it was all going to happen and it all just fell into place."
Some of Mildon's warm-up stunts failed, but he wasn't put off and it felt "a bit unreal" when he succeeded .
"I'm so pumped to have aimed for something once deemed impossible and made my dream a reality." He had not really thought about what it was like to be a world recordholder.
"This was all more about the trick and the sport and what it's going to do for the sport.
"Hopefully now [the sport] will get more recognition here in New Zealand.
I just want to give a huge thanks to everyone for supporting me."
Mildon kept the stunt a secret until the day and performed it before about 2000 spectators at the Unit T3 Mindtricks event at Taupo Skate Park.
A representative from the Guinness Book Of World Records was on hand to witness and approve the world record.
Mildon has been a BMX freestyle rider for 11 years.
For more articles from this region, go to Rotorua Daily Post