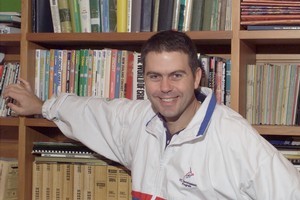 Auckland are preparing for a qualifying tournament to take their place in this year's Champions League T20 tournament.
News of last season's New Zealand representatives, Central Districts, still awaiting payment from the CL organisers has not deterred Auckland Cricket from pressing ahead with planning for the next edition of the T20 tournament this September.
Reports that CD have yet to receive around US$200,000 ($240,000) in payments from their participation in the tournament in South Africa last September are worrying. They played four matches, lost the lot and have received a participation fee, but not their cut of the prize pool.
Auckland earned the right to be in the third edition of the CL by winning last summer's HRV Cup. It is expected to start around September 23 in India.
Auckland Cricket chief executive Andrew Eade said the financial hold-up over payments to CD, while frustrating for that province, had "absolutely not" given Auckland cause for concern over taking their place this year.
But the indications are Auckland will need to go through a qualifying process, likely to be either in Sri Lanka or India a few days before the CL starts.
The most likely opponents are the Sri Lankan and West Indian domestic champions and the fourth-placed Indian Premier League side, the Kolkata Knight Riders, with the top two to progress, after a six-game round robin format, to the full league competition.
The top three IPL franchises, winners Chennai Super Kings, runners-up Royal Challengers Bangalore and third placegetters Mumbai Indians, are all to feature in the 10-team CL, with two teams from Australia (South Australia and New South Wales) and two from South Africa, one from England plus two others.
As the boards of India, Australia and South Africa run the CL, they aren't about to put their teams at risk of missing out through qualifying.
So the lesser lights in the operation are expected to be walking a qualifying plank, with two of the four to advance.
ESPN Star have spent US$1 billion on TV rights and there is concern over ratings, which have been significantly weaker than for the IPL. Therefore pressure is on to ensure the strongest teams make it to the main event.
Between them, Otago and CD played and lost six games in the first two years, which is hardly a solid recommendation for New Zealand getting a guaranteed passage if a squeeze goes on the organisers.
"If we come in the top two that's fantastic and it's our preparation taken care of," Eade said.
He hopes to hear confirmed details within the next fortnight.