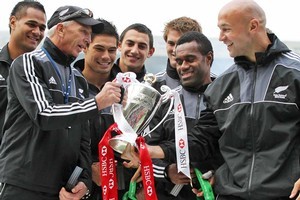 New Zealand coach Gordon Tietjens did not have to look far to find something to celebrate despite his side being eliminated in the semifinals at the Edinburgh round of the world sevens rugby series in Scotland today.
They went down 12-19 to Australia, who themselves went on to lose a classic final 35-36 to South Africa.
But Tietjens was a happy man anyway, with New Zealand having wrapped up the series before the eighth and final round started.
"It has been a very tough year, a good year, winning four out of the eight tournaments," he said after New Zealand were crowned series champions for the ninth time.
"It would have been great to win it (the Edinburgh title) today but it wasn't to be," said Tietjens after watching his captain DJ Forbes lift the series trophy after securing the title for the first time in two years. "I think what is really pleasing is that we won the world series in a year where sevens is growing, it is a lot stronger now,'' he told the irb.com website
The New Zealanders dominated the series, finishing on 166 points, 26 clear of second-placed South Africa.
"Consistently winning four tournaments was great and the semi finals was the worst we did so that is a great result and I just hope it continues," Tietjens said.
Tietjens, a sevens institution and widely respected, is the only person to have been involved in all 100 tournaments played since the series was launched 12 years ago.
"It is pleasing, it would have been good to win in your 100th tournament, it is like a player playing his 100th game, but it has come pretty quick.
South African coach Paul Treu was one of many to pay tribute to both the New Zealand players and Tietjens.
"They have been consistent throughout the season. It just shows that Gordon Tietjens is an unbelievable coach and the structures they have in New Zealand and the depth of talent they have.''
New Zealand were not at their best against Australia when missed tackles and fumbled ball didn't help their cause.
As well, Tomasi Cama was sinbinned for a dangerous tackle after four minutes and Australia were quick to pounce with a try by Ed Jenkins.
That was followed by another try by Jacob Taylor as Australia led 12-0 at halftime.
Greg Jeloudev then scored the opening try of the second half before New Zealand responded with tries to Scott Curry and Tim Mikkelson.
Earlier, New Zealand beat England 26-12 in the quarterfinals at Murrayfield, having dispatched Russia 43-0, France 43-5 and Argentina 38-7 in pool play.
- NZPA