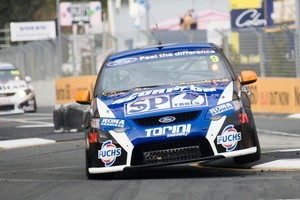 While some people are worried, I can only see positive results from the recent deal which saw an investment group take a 60 per cent stake in V8 Supercars.
I know some fans are concerned about the series going global and leaving its spiritual home in Australasia, but this is what will take us to the new level on the world stage.
It has been on the cards for a while now and the idea of racing in the United States, India and other areas of Asia can only be good for the series. Australia and New Zealand will always be crucial but expansion is necessary as we are competing with so many other sports. The team owners have received around A$4 million ($5.24 million) as part of the deal but that is simply a reward for all their hard work over the years. They have ploughed so much of their money and time into building up the teams and the sport. While it can seem glamorous from the outside, it is also a business where hard decisions have to be made.
I had high expectations last weekend at Winton. It is our test track, and I know it well, but not everything worked out.
We struggled on Friday and should have qualified higher on both days.
All in all, I was happy to finish in the top 10 on Saturday and a top five place on the Sunday but we need to keep aiming higher. There is a few weeks now before the next race weekend in Darwin (June 17-19) but no rest for us. We have some test days booked in and there is also plenty of time down at the team base in Melbourne.
Darwin is a race of survival. It will be hot - very hot - you can add about 30 degrees to the ambient temperature and that is how it feels in the car. Some people joke that it is a good weight loss programme, as you can feel like you are in a mobile sauna.
The warm conditions and the fact we use soft tyres there mean that the tyres just don't last.
On paper, the Hidden Valley circuit south of Darwin doesn't look like a complex track but it has some technical elements. Apart from one of the longest straights in the championship - at 1.1km - there is also an interesting combination of slow and fast parts. If your car is not set up properly you will struggle.
Last year there it was a bit hit and miss so we know there is a lot to improve on this time around. Shane van Gisbergen grabbed two podiums there in 2010 so hopefully the Kiwi success at the track will continue this year.