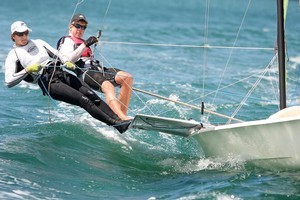 Blair Tuke and Peter Burling are on the fast track to Olympic sailing success in a class where New Zealand has little previous pedigree.
Competing in the 49er class, the young duo have made great strides over the last two years and are realistic contenders for the London Games.
Their progress was recognised recently when they were one of seven Kiwis awarded an Olympic Solidarity scholarship worth US$29,000 ($36,000), allowing them to focus full-time on sailing.
Such progress seemed a long way off when the two sailors, both rookies in the 49er boats, decided to join forces at the end of 2008.
"We sat down and mapped out some targets back then and there were some pretty big jumps to go through - basically, from not racing a 49er before to being among the top guys in the world," remembers Tuke.
Tuke, 21, and Burling, 20, embarked on their first European campaign in 2009, placing 26th in the 49er world championships in Italy and 16th in a grade one event in Germany.
At the 2010 world championships, they finished 17th and managed a second at the prestigious Medemblik regatta in the Netherlands.
In December last year at Sail Sydney, they beat reigning world champions Nathan Outteridge and Iain Jensen, becoming just the second crew ever to beat the highly-rated Australians.
A week later, at Sail Melbourne, they finished a narrow second to current world No 1 pairing Nico Delle Karth and Nikolaus Resch (Austria). They are ranked 13th, down from a high of eighth in December.
"We are just where we want to be," Tuke told the Herald on Sunday from the Netherlands. "We don't want to sound cocky but we hope to be on the way to a medal, hopefully gold. You need to be confident."
The 49er is a design class that first saw competition at the Sydney Olympics in 2000. Along with carbon masts and two trapeze wings, the traditional spinnaker pole has been replaced with an asymmetrical spinnaker system which comes straight out of the bow.
After Dan Slater and Nathan Handley competed at the Sydney Olympics in the 49er class, finishing eighth, New Zealand did not send a boat to Athens or Beijing. Burling competed in the 470s at Qingdao (as the youngest Olympic sailor in New Zealand history) then decided to combine with Tuke in the physically challenging class.
"These boats are extremely physical, lots of fun and go faster than any other Olympic class," says Tuke. "When there is a bit of breeze, it can be difficult just to keep the sail up.
"It is a high performance skiff - often there is not much boat in the water and sometimes you can end up swimming more than sailing."
Tuke is the strong man, required to trim the sails and responsible for sail control. In a typical week, he will complete three gym sessions as well as running and kayaking for cross training. Burling is on the helm, making the tactical decisions and steering. Tuke says capsizing is not uncommon and there is plenty of "crashing and bashing".
Currently on their third European campaign, Tuke and Burling are placed third going into the final two days of the regatta at Medemblik.
Aside from the Sail for Gold event in England in July, the next big step for the duo will come at the Olympic test event off Weymouth in August, with just one boat from each country competing. Australia and Britain have traditionally been the strongholds of the class.
That is a precursor to the ISAF World Championships in Perth in December, where 14 countries will qualify boats in the 49er class for London.