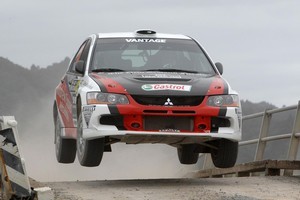 Timaru's Chris West and co-driver Erin Kyle have overturned earlier disappointments this season to hold a 30-second lead after eight special stages in Rally Wairarapa today.
After capitalising on mechanical misfortunes which impacted favourite Richard Mason and fellow top-running Subaru driver Emma Gilmour, West heads a trifecta of Mitsubishis, with 19-year-old Sloan Cox from Rotorua second and defending New Zealand Rally Championship (NZRC) title holder Dean Sumner, also from Rotorua, third.
"It's put a smile back on our faces, but, in saying that, it's been hard to get there," said West, the 2004 NZRC champion, after the first of two days took the teams through 157.91km of competitive stages north of Masterton today.
"The car has been feeling good but we've had an issue with the fuel. It's got dirt or something in there somewhere.
"It's been starving for fuel and, at the last time control point, we were hitting the fuel pump with a hammer to try getting some response out of it. Very nervous moments, so we're very lucky to even finish."
The day's action included numerous stage records being broken despite recent heavy rain.
Howick's Glenn Inkster and co-driver Glenn Goldring took an early lead after the first special stage, east of Masterton, and also set the first record for the day. In the second stage it was Dean Sumner who came out fastest with a new record and the rally lead.
At that point, Dunedin-based Gilmour was also pouring on the pace, but a broken half-shaft in the third stage dropped the Subaru driver down the standings.
Masterton locals Richard and Sara Mason had a troubled start to their event with turbo-charger problems in the first stage costing them precious time until the problem could be rectified at the mid-day service.
After languishing in 18th place overall with a gap of over three minutes from West, Mason then bounced back to win the remaining five stages - setting new time records in all five stages - to climb back up the leaderboard to fifth at the overnight halt, 53.8 seconds adrift of West.
However, the Masons' hard-charging run didn't come without incident as they ran wide into a fence post on the seventh stage.
Tomorrow's nine special stages cover 126.04km, based around Eketahuna. The rally is the third round of the 2011 NZRC.
- NZPA