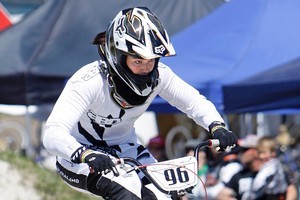 Lane draw looms as crucial as New Zealand's BMX riders look to make their mark on the second round of the UCI Supercross World Cup in The Netherlands.
The 2009 world champion, Sarah Walker, and Cambridge riders Marc Willers and Kurt James are through to the elimination phase after the official time trials on the controversial new Papendal track near Arnhem.
The track, a blueprint for next year's London Olympics, is considerably longer with a series of off-angled jumps and a box jump. Forty nine of the 133 men and six of the 41 elite women crashed in the time trial or during practice to rule them out of the contest. That included Tauranga's Kurt Pickard, the national champion, who crashed in his run but was uninjured.
Walker set the mark for the women to top the qualifiers in the timed run in 37.666 seconds just ahead of Romana Labounkova (Czech Republic) and former junior world champion Mariana Pajon (Colombia).
The Czech rider edged the New Zealander in the Superfinal time trial by 0.2sec but BikeNZ coach Ken Cools was delighted with the progress of Walker.
"She looked good today. This is a tough technical course with the new jumps and Sarah handled it really well and still rode well within herself," said Cools. "Sarah has been working hard and we hope to see some fruits for all that effort in what will be a mighty tough day tomorrow."
The Californian-based Willers, the current leader the US national series, finished 13th fastest in qualifying. He was pleased with his performance in the windy conditions, timed at 41.647.
"The track is pretty brutal. The conditions have not been favourable for anyone and hard to know what to expect. It's definitely a fun track and fun to ride by yourself. It will be interesting to find out tomorrow afternoon how it races. The track designers might be dreaming a bit big for that because I think it will turn out a big bottle neck.
"Lane draw will be crucial. There's a left-hand kink in the first straight so to be in lane one is going to be a definite advantage.
"Fitness will be a key. There's going to be a lot of hurt coming out of those laps. My plan is to get in front at the beginning of the race and try to control the speed from there and try to save some energy for the last two races."
James, 19, who has been training with Willers in southern California in recent weeks, is safely through in the top 64 riders for tomorrow's qualification motos. He was 41st fastest in 43.578.
Christchurch junior Daniel Franks missed out on his first Supercross qualification by a mere 0.3sec in an impressive performance, just two spots off getting through. Fellow juniors Trent Woodcock (Pukekohe) and Nic Fox (Gisborne) also missed out.
There are three qualifying motos tomorrow with the top 32 men moving into quarterfinals, semis and grand final and leading 16 women to semifinals and grand final.
- NZPA