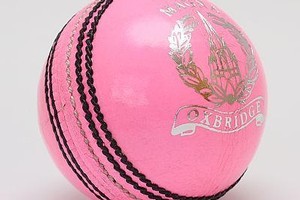 Pink balls for a round of the Plunket Shield next summer?
It's not out of the question as one of the many recommendations from the International Cricket Council's cricket committee this month was for the major test nations to give them a first-class trial.
New Zealand Cricket chief executive Justin Vaughan was on that high-powered committee and therefore part of the group who have made the strong recommendation for a one-round trial. So the major associations can expect to get a nudge to give it a try next season.
"We haven't looked at it yet but it's certainly something I'm going to ask to be considered," Vaughan said yesterday.
Day-night tests are the end game for the ICC. It believes that is the way to promote the five-day game in a fresh direction.
Vaughan doubts New Zealand is the right place, for climatic and audience reasons, to be the guinea pigs for that.
"But we can certainly play our part in trialling the pink Kookaburra," Vaughan said. "We need to check the availability of the balls and arrangements with Kookaburra to trial them, then the appetite of the major associations."
The round of games, if it goes ahead, would be played in daylight. Assessing the durability of the pink balls can be achieved as easily in daylight as under day-night conditions.
"The biggest question I'd throw out is whether it would behave and age the same as the traditional red ball," Auckland coach, former Zimbabwe test player Paul Strang said.
"That's always been the stumbling block against using other coloured balls, including white balls.
"They tend to get scuffed up and visibility becomes an issue.
"I'm a little old fashioned, but I also understand the game's got to move on a little bit.
"As long as not too much is taken away from the way the game is played when they tinker with the rules, I'm all for trialling it. But I'd need to be suitably happy with the trial to say 'hey this is good'."