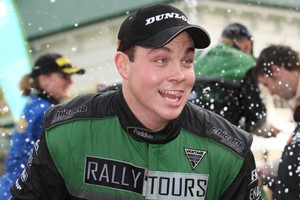 While most New Zealand motorsport fans will be focusing on Scott Dixon's attempt to win another Indianapolis 500 at the Motor Speedway this weekend, there are a couple of other things going on.
First up is Hayden Paddon's second round of his Production World Championship (PWRC) series on the rocky roads of Argentina.
Check nzherald.co.nz/driven in the coming days for details on how he got on - if he podiums in the South American round he could lead the PWRC.
The other event is on home soil this weekend, the Trusthouse Racetech Rally Wairarapa, which is the third round of the 2011 Brian Green Property Group New Zealand Rally Championship.
With undefeated series leader Paddon on 256 points after winning the first two NZRC events, Rally Otago and Rally New Zealand out of the picture in Argentina, Richard Mason second on 186 points and Emma Gilmour third with 154 points are well in with a chance of overhauling Paddon.
Defending champion Dean Sumner can't be ruled out either as he's in fourth on 128 points.
Mason, the two-time former champion, is a fair bet to take out his home event, which he won five times, and go to the top of the table. "We always like to put on a good show for our home crowd," says Mason.
"Although we will be striving for a win, with the current NZRC points structure, finishing is paramount. We're always working on improving the cars and our own performances.
"At Rally NZ we started to pinpoint some areas of handling, which improved our stage times quite dramatically. We have also had some gains in engine performance since the start of the season."
With the new points structure there are now a total of 128 points up for grabs, which are allocated for each driver's finishing position at the end of each day, with extra points going to the driver's overall finishing position.
At Rally NZ earlier this month, Gilmour delivered consistent results, achieving numerous third-quickest stage times to finish the event third overall and third in NZRC.
"Prior to Rally NZ we put a lot of time and effort into fine-tuning both my driving and the handling of my car," says Gilmour. "It all came together superbly for Rally NZ, where we finished a clear third.
"If I finish second or better on both legs and overall then I will move ahead of Hayden in the points. That would give me a great platform for the rest of the series."
Gilmour, who finished third on the rally in 2009 and last year, is the second seed behind Mason. Another former national champion, Chris West, is seeded third ahead of Sumner.
The defending champion will have his work cut out if he's to eat into the leading pair's point's advantage, as he missed out on a big haul, crashing out in Rally NZ and not finishing.
Sumner will have to go all out and attack at every opportunity.
"With the new points system this year we have nothing to lose," he said.
The NZRC also features categories for open-class four-wheel-drive cars, Group N two-wheel-drive and the increasingly popular historic class.
Ben Hunt leads the Group N 2WD class from Josh Marston. Hunt, the first winner of Rally NZ's Rising Stars scholarship in 2009, holds a 40-point advantage over Marston.
The historic cars are run in a separate event, the Malcolm Stewart Classic Rally, which ran for the first time last year. Marcus van Klink is the favourite for this class, with other leading drivers Derek Ayson, Jeff Judd and Shane Murland out of action.
Today's stages cover 157.91km, with two stages to the west and southwest of Masterton and the remaining six northwest of Eketahuna around Pongaroa.
Sunday's travels cover 126.04km with nine stages around Eketahuna.
NZ Rally points
1. Hayden Paddon, 256
2. Richard Mason, 186
3. Emma Gilmour, 154
4. Dean Sumner, 128
5. Glenn Inkster, 117
6. Chris West, 107