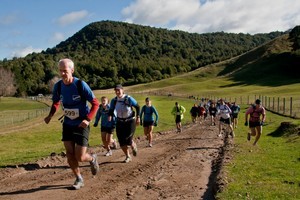 In the immortal words of David Tua, O is for awesome. Next Saturday, about 200 athletes will take on The Big O Trail Run, a stunningly scenic anti-clockwise loop around Lake Okataina in Rotorua.
It is the fourth year of the event that has two options. A 35km run follows a mix of well-established bush walking tracks, private farm tracks and an untracked section of native "bush crashing".
The 19km version starts at the Rotorua end of the lake and takes in the same course to the finish as the second half of the 35km event, along the Eastern Okataina Walkway.
"The Big O is special because this is the only time of year you can completely circumnavigate Lake Okataina," said Shaun Collins, a former New Zealand orienteering rep and event director of Lactic Turkey Events for the past 15 years.
"To join the Western and Eastern Okataina DoC walkways we take participants through a private deer farm along farm tracks and then, something unique to any other trail run in New Zealand, we make everyone do a bush crash."
The 35km is a stern test with a significant climb in this first section with the highest point in the race at over 700m before the 5km mark. Collins has simple advice for runners taking on the 35km run.
"It doesn't seem it at first as the scenery is so nice and the gradient pretty rolling, but 3km from the finish you hit a big hill and lots of people haven't saved up some energy for this last climb," said the 37-year-old.
The Lactic Turkey team has a goodie station - supplying lollies and drink - at the bottom of the climb.
"But have a good look around as you run. People often get trapped into the tunnel vision around the track they are running, especially the more tired you get, but this event offers some stunning views."
Collins is not surprised off-road running is growing in popularity. "People have suddenly realised that running doesn't have to be the grind that it can be by just road running. You can have an awesome adventure with every run, as you don't know what's around the corner.
"And as people tell their workmates about what they got up to in the weekend, it isn't just ... 'I went for a two-hour run around the waterfront', but more ... 'I ran for a couple of hours in the bush and found this amazing waterfall and these wild pigs ran across the track in front of us'. It spreads the word how fun it is."