Phoenix midfield addition tells Chris Rattue why NZ is home to his happiest soccer memory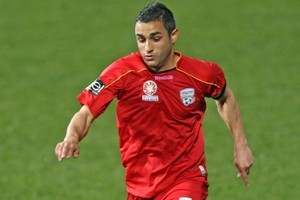 New Zealand holds happy memories for Lucas Pantelis, the Wellington Phoenix's new signing from Adelaide.
The 29-year-old left-sided midfielder is seen as a potential spark to replace Marco Rojas, the brilliant little youngster who was a shock departure to the Melbourne Victory after last season.
Pantelis has been with the successful Adelaide United side since the A-league's inception in 2005.
Their up-and-down ride has included one Asian champions' league and two A-league final appearances, although without ultimate success.
Yet Pantelis lists his favourite soccer memory as the Fifa under-17 World Cup in New Zealand 12 years ago, when the Australians powered into the final against Brazil at North Harbour Stadium.
The Aussies lost on penalties, but Pantelis says: "Playing in a World Cup final at the age of 16 was a dream come true for me. I know it was a long time ago but I'll never forget the excitement of that."
Pantelis joins the Phoenix early next month, wife Carla and their 17-month-old son Marcus arrive in August. He takes a few questions from the Herald.
Why leave Adelaide?
I had a year left on my contract but while the opportunities hadn't come to an end for me, it was getting tough. New coach, Rini Coolen, was looking to play a certain style ... my style suits what Ricki Herbert does at the Phoenix. And it was time to change.
What do you like about the Phoenix game?
Whether Ricki Herbert plays two up front or one, I can fit in ... I can play in a flat four across the midfield or higher up as a left winger. The midfielders Tim Brown and Vince Lia are ball players, which suits me ... ball to feet is for me.
The Phoenix have been reasonably close but yet so far from the title - what needs to change?
That's a tough question. The Phoenix have stepped up in the last two years but we need more away wins. Wellington's stadium is a fortress but we need to do a job on the road. Adelaide got good away results in the champions' league. You have to soak up the pressure and it's not always about playing beautiful football.
Your career highlight at Adelaide?
The year (2008) we played in the A-league and champions' league finals. We were playing every few days, going to Asia and back - it was like that for three or four months. Fantastic - that's what playing football is all about and it was an amazing learning curve.
Childhood heroes?
I grew up idolising Diego Maradona - what he could do on the field and how he went about his game ... maybe Lionel Messi comes close sometimes. My other hero was Zinedine Zidane. He was the complete footballer. It wasn't only about what he did on the ball - he'd be in there winning headers and helping the defence.
Favourite clubs?
The two greatest clubs on earth ... Barcelona and Liverpool. The English league is big in Australia and Liverpool were my team as a kid. What Barcelona has done in recent years has made me admire them even more. The intricate style of football they play is remarkable. Some people might not realise how hard it is to play like that all the time.
Is there anything in football you would like to change?
Not really ... there is a lot of talk these days about goal line technology but I'm old school and don't want to see it introduced. Referees and linesmen make the odd mistake but they are human and players make a lot more mistakes. Football is a game at full speed for 90 minutes and it should stay that way. It makes it hard for the players but that's the beauty of the game. There are hardly any goal line mistakes but every time there is you hear an outcry. We don't need stoppages and you don't know where the technology will stop. That's just me - a traditionalist. Our sport has been the same for 100 years and is great the way it is.
Is there soccer in your family?
Yes - my dad Nick played for West Adelaide in the 60s and 70s as a right wing after emigrating from Greece.
Wellington has a strong Greek community ...
Yes, I've heard that. Friends have given me some Greek Orthodox contacts. I don't know Wellington well but from what I've seen it's like Adelaide - a smaller place, not the hustle and bustle of Sydney or Melbourne. I can't wait to settle in.
Were you surprised Marco Rojas left the Phoenix?
Definitely. I knew how he came to the club [aided by a fan club scholarship] ... I'm not sure if he talked with Ricki but he must have felt it was best for his career. I suppose I'm similar to him, being a small bloke, although I'm a bit wider. I've got more experience so I can bring that to the side ... it's not always about attacking, you've got to know when to hold the ball.
Can the Phoenix win the A-league?
Every team is out to win. We need to work hard from the first session.