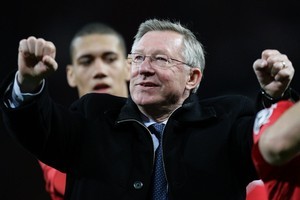 Of all the things he has said - funny, sour, magnanimous, cruel or in contravention of Football Association rule E3 - there is probably none quite so pertinent to Manchester United today than the line Sir Alex Ferguson uttered about knocking Liverpool off their perch.
A good deal of myth has been generated around when he said it, and to whom, but I can say, without any shadow of doubt, that Ferguson said it in the week leading up to Saturday, September 28, 2002, when it appeared in the Guardian in a rare interview Ferguson granted the esteemed soccer journalist Michael Walker.
Ferguson was approaching his 400th Premier League game as United manager, his team were already trailing Arsenal by six points in the league and it had recently been suggested that winning the title that season - which he subsequently did - would be the greatest achievement of his career. What had irked him was that the person who had suggested it, or rather written it in his newspaper column, was the former Liverpool defender-turned-pundit Alan Hansen.
At the time, Hansen's point was contentious but not outlandish. United had won three titles between 1999 and 2001 but after Arsenal won the Premier League by 10 points in 2002, suddenly the picture had changed. United had finished third behind Liverpool. Juan Sebastian Veron, Ferguson's record signing at £28 million in the summer of 2001, bombed. Things seemed to be changing.
Indeed, after May 2001 and until May 2007, United won the title just once, in 2003. So in some ways, Hansen was right. Ferguson did have to re-establish himself all over again among a new order. Not one that was dominated by Kenny Dalglish and Liverpool but one controlled by the new wave - Arsene Wenger, and later, in the summer of 2003, Roman Abramovich and Chelsea.
When Walker put Hansen's theory to Ferguson, his exact published words were thus: "My greatest challenge was knocking Liverpool right off their f***ing perch. And you can print that." Which is a rare instance of the original quotation being much fruitier than the one that has passed into folklore.
Since that day in September 2002, Ferguson's team have won five more titles - the fifth coming on Saturday - establishing them as England's leading club, with 19. In September 2002, Ferguson was 60 years old and had a contract at United that lasted until June 2005. Now he is 69 and has a rolling contract that is indefinite.
With hindsight, the notion that Arsenal might represent the single biggest threat to United hegemony seems ludicrous. In fact, on current form it is far more likely to be Manchester City, Chelsea and even Liverpool who might overthrow United next season. In 2002, it was unthinkable that Ferguson would go two years without winning the Premier League title. But between 2003-04 and 2005-06 he went three seasons without it and still came back.
Less than two weeks before Ferguson granted that interview in 2002, United had lost 1-0 to Leeds United, their second successive defeat of the season which, it was judged, had badly affected their title chances already. It hardly requires mention that on the weekend that United picked up their 19th league title, Leeds were already preparing for their eighth season outside the Premier League.
Leeds are not the only side who have fallen short since Ferguson began establishing United as the country's pre-eminent club. But his words in September 2002 stand as a lesson to Chelsea, City, Liverpool or Arsenal and any others who would seek to depose him: the first step is the hardest.
It was Jose Mourinho who came closest to finishing off United's dominance with two successive titles - no other manager has ever done that since Ferguson's first in 1993 - but he never looked like he would hang around long enough. By contrast, Arsene Wenger has had the necessary longevity at Arsenal but his determination to stick to self-prescribed budgets looks ever more eccentric.
For Ferguson to get that lift-off in the early 1990s required a perfect storm of contributing factors. Undoubtedly it needed a manager of singular ability and determination but Ferguson was aided by the stock market flotation of United in 1991 that released extra funds, as did the launch of the Premier League the following year. In the all-seater stadium era, Old Trafford's serendipitous location in an industrial park gave United the scope for expansion unavailable to other clubs.
Then there was the post-Dalglish decline at Liverpool. Jamie Carragher has argued it was Graeme Souness's spell as manager that did as much to damage the club as United. But there are other reasons, too. United have not just adapted to modern soccer, they virtually wrote the book on it. In their last financial results, United's turnover was £100 million more than Liverpool's.
Now United occupy the perch, will displacing them be as difficult a job for the pretenders as Ferguson faced against Liverpool? With the bulwark of a huge stadium, a global following and unparalleled success it will be neither simple nor cheap to do it.
- INDEPENDENT