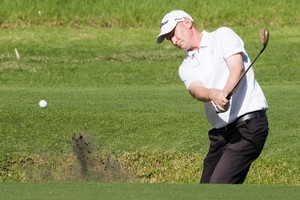 As the hardier souls braved the Auckland weather to play nine holes of the pro-am to the Muriwai Open yesterday, the answer to some of the golfing trivia questions being bandied about in the clubhouse was out on the course.
Who denied Michael Campbell a national amateur championship title at Dunedin in 1992?
Who was the Kiwi professional who shot 62 on the famed Royal Melbourne course to set a course record?
Who recorded a round of 59 at the Tauranga Open last year?
The answer to all three is 37-year-old Auckland professional Richard Lee, who finished second to Mike Hendry at Muriwai last year. Hendry is playing in the $130,000 Papua New Guinea Open this week but Lee will tee off this afternoon using the Charles Tour event as a warm-up for his next tournament on the Japanese tour.
The Charles Tour is designed as a 72-hole launching pad for professional careers and a taste of the pro game for leading amateurs.
Hendry went from winning the $40,000 tournament at Muriwai to victory in the Indonesian Open on the far richer OneAsia tour. He later reached the final stage of qualifying for the USPGA tour.
Lee birdied the last hole from a gnarly lie for a course record 66 last year to force Hendry to hole a good putt for victory. He went on to regain his card on the Japanese tour and earlier this year won the $100,000 Perry tournament in the Waikato.
The other very experienced player in the field this week is Auckland-based Australian pro Peter Fowler, who won the New Zealand Open at Paraparaumu in 1993, and these days competes on the senior circuits.
Among recent qualifiers in the pro ranks are Nick Gillespie and Peter Spearman-Burn, who will be competing against his twin brother, Thomas, who is still an amateur. Ryan Fox will be joined by Mathew Perry among the amateurs.
There will be a cut in the men's field to 60 and ties while, in a change from last year, the top nine from the women's field, which includes world amateur No 1 Lydia Ko, will play the full 72 holes.