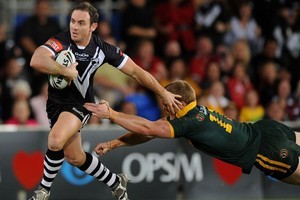 The NZRL are intensifying calls for an international window or greater leniency for international players after yet another Anzac test wedged into the NRL schedule in early May.
A number of Kiwis and Kangaroos were looking to back-up this weekend if, unlike Sam Rapira (dislocated thumb) and presumably Jason Nightingale (concussion), they were passed fit by their clubs.
It effectively means they face a punishment - with battered bodies more vulnerable to injury - rather than a reward after being selected to represent their country. State of Origin players are withdrawn from the NRL for 10 days before games.
NZRL chief executive Jim Doyle's wishes for something similar or even an international window when the NRL takes a break are unlikely to be granted. League remains a sport, like football, where club generally overrules country.
Understandably, clubs and the NRL have a business to run and demand the use of star players as much as possible to drive revenue through gate takings and sponsorship.
However, State of Origin gets preferential treatment in that regard with players given extra time off to prepare.
For Doyle the sanctity of test matches are compromised.
"Theoretically, the Kiwis have a whole week to work together but they still need to back up if their NRL teams don't have byes," he said.
The Warriors have four such examples - Lance Hohaia, Ben Matulino, Simon Mannering and Lewis Brown - today and would have had a fifth if Rapira got through unscathed.
"Nothing is impossible," Doyle says. "The NRL could reduce the season by a couple of games but you've got to look at it from their perspective and say, well, it's going to affect our broadcast money and club gate takings.
"I just think with those extra representative games it would be nice to see players rewarded for their success [by being allowed to concentrate solely on the test]."
He says the last two Anzac test results (Australia 12-8, 2010 and 20-10 Friday night) might give the NZRL more leverage with the international board and NRL and open the topic up for further discussion.
"I accept it will take some co-operation with the clubs but the players are effectively getting punished having to juggle their commitments with representative football."
Kiwis coach Stephen Kearney can see both sides of the equation now he is also Parramatta mentor. He says while there are frustrations borne of getting his players for a handful of days that was not their core problem on Friday night.
"We couldn't build pressure for the most part," he said. "The back end of the first half [holding them to 10-6 at the break] showed what we could do with an even share of possession. We only had two attacking sets at their line and came up with a try [to Matt Duffie] from one.
"At one stage in the second half we completed one in seven sets, which placed us at the wrong end of the field. It wasn't about them gelling better, it was about us making mistakes.
"Last year at this time our completion rate was a lot better. With that in mind, I think having 13 Queenslanders was an asset but we made fundamental errors like dropping the ball in contact. I didn't think the kick finishes were good enough, either. Over 80 minutes with those factors going on it means you're in trouble.
"It seemed a bit same old, same old [without a win at the fixture in 13 years] but the guys hung in there."
Kearney has at least brought together another cohesive squad with a consistent nucleus from his three years in charge.
Taking into account a number of temporary injuries which distort the figures, 12 of the 17 who won last year's Four Nations were present on Friday night, as well as nine from last year's Anzac test and nine from the 2008 World Cup final win. Kearney's core group has made each encounter a contest, something that could not be guaranteed in the past.
Friday's team was also young compared to Australia, but no less experienced. The average age of the Kiwis was almost 25 while Australia's was 26.5.
Both teams averaged close to 14 caps per player which, when taking into account Australian skipper Darren Lockyer, who equalled Ruben Wiki's record of 55 test caps, leaves New Zealand in a strong position looking towards the 2013 World Cup.