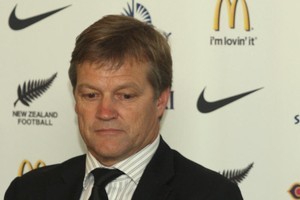 Cashing in on their success of playing at last year's World Cup, New Zealand Football yesterday announced a record $7.7 million surplus but just as quickly warned they will not be throwing money around.
"It is still tight and tough out there," said board chairman Frank van Hattum.
A $756,000 surplus from other sources is the best in at least 10 years and well up on the $150,000 posted a year ago and more than $1 million better than the crippling $557,000 deficit in 2007 which led to the association taking a $1.5 million loan. That has now been repaid - a year ahead of schedule.
"The processes are in place to ensure the money is used wisely," said van Hattum.
"We have already put $4 million into the New Zealand Football Foundation which is a charitable trust and will become the vehicle to attract further members and funding options.
"Already $100,000 in new money has flowed into the game from five Goal project sponsors. Along with the interest this fund will attract, we have the income we want for our Whole of Football initiative which remains the basis for projects aimed at the grassroots of our game."
Van Hattum was quick to assure that the international programme will remain at the forefront of their planning.
"We have eight international teams including the Olympics to look after. We have $2.5 million in a reserve fund for that purpose but, again, any spending will be closely monitored.
"While we want to give all our teams the best possible preparation we have to do it within budget."
Any changes to the ASB Premiership will wait until after the current review.
Yesterday's annual congress confirmed their seven-member board with Bill Moran reappointed for a four-year term. He joins other incumbents van Hattum, Fred de Jong (also the OFC delegate), Dougal McGowan, Mark Aspden and Shelley McMeeken (co-opted). They have been joined by newcomers Martin Fenwick (one-year term) and former acting NZF chief executive Paula Kearns (three years).
Andrew Clements and Mike Norris have joined the NZF Foundation board which includes van Hattum as a member.