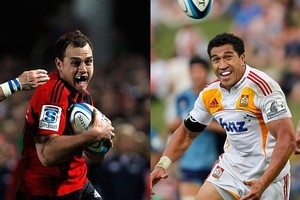 The more you watch the Crusaders the more you feel inclined to conjure up an All Black battle within a battle - Mils Muliaina versus Israel Dagg for the World Cup fullback spot.
Whether the national selectors see it that way is another matter, so this could be hypothetical. Who knows if Crusader Dagg will get many chances to press his claims.
But the whirl with the curls is a startling runner, and the leading candidate - by my reckoning - to be the All Blacks' World Cup X-factor.
Muliaina is a wonderful test fullback and has been virtually faultless for much of his nearly 100 test career.
Graham Henry and Wayne Smith have good reason to stick with the redoubtable Muliaina, because the World Cup is unlikely to be a freewheeling romp.
Unwanted errors - and Dagg still makes them - are costly on the big day. The way Highlanders' wing James Paterson busted through Dagg's tackle for a try two rounds ago is hard to forget, and Dagg wasn't faultless in a terrific match at Perth on Saturday night.
There's a balance in analysing errors. Modern sport is obsessed by them. Yet a failure to take risks can also be a failure.
Dagg might push the odds a bit too much though.
However, Dagg's running game is an absolute delight and beyond anything Muliaina could offer, and has ever offered.
Hawkes Bay rugby claimed they had the next Christian Cullen on their patch as Dagg worked up the grades. There isn't a higher standard - Cullen at his best was rugby's finest fullback.
Dagg isn't there yet.
There may be a lobby group who believes the vastly improved Aucklander Isaia Toeava is also a candidate, but for my money it's Muliaina or Dagg.
What are the pros and cons?
Muliaina is in pole position, and has the utmost trust of Henry who has used him as a standby captain (sealing the deal by publicly planting a kiss on Muliaina's head). Their relationship goes back to Kelston Boys High School days.
Muliaina hasn't been in cracking form this year, and was hindered by a back problem, but has more than risen to the test challenge before.
Under the highest pressure, there may not have been any better fullback in making good choices - Muliaina treasures possession and knows how to retain the ball.
His experience could take on new significance.
Sonny Bill Williams is a shoo-in at second five-eighths, but he is still a test tyro. If Robbie Fruean gets a chance at centre, this would lower the experience level further.
Dagg has yet to reach a point where his choices are reliable, and he is unlikely to get enough test time at fullback to prove his worth to Henry.
But as Dagg showed in Perth, his running can be sublime and rule changes have turned rugby into a potentially open test game again - although the World Cup blowtorch might burn that theory.
Henry can go down the conservative route, believing the side he has established will be too good for all comers.
Or he can put a foot flat to the floor, and say to the rest of the World Cup contenders "whatever you throw at us, we can do better, much better". The selection of Dagg and Fruean would fit into the second category.
World Cups have been won on both philosophies. The All Blacks ran over their opponents in 1987, while England sent Dad's Army into battle in 2003 and South Africa clawed - or make that kicked - their way to victory in 2007.
Dagg does have another advantage though - he's learning how to operate off Sonny Bill's offloads.
Combinations can't be ignored, and if Fruean enters the fray, a Crusader combo including Dan Carter is a potentially potent force.
As the adage goes, this is a nice problem for Henry, but nice problems don't necessarily win World Cups.
So it's the 79th minute of the World Cup final, scores are tight, and a bomb is heading toward the All Blacks' goal line. Who do you want under that ball? Muliaina of course.
Then again, if Dagg had been out there, the scores might not have been close.
Slipping on the coach's shoes, most pundits would opt for Muliaina, as Henry probably will. As punters in the stand, let's go with Dagg and set out to stamp an exhilarating mark on the World Cup.
For a bob each way, how about shifting Muliaina to the centres ... oh, just kidding. That's an old World Cup joke.
WEEKEND WINNER
The Breaaaaaaakers. Hoop, hoop hooray.
WHAT TO WATCH
A footy double-header as the Blues face the Hurricanes in Wellington on Friday night - another chance to toast, instead of roast, Lam. And get fired up for league's Anzac test on the same night.