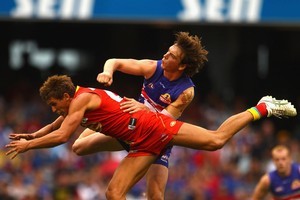 Australian Rules, this time fuelled by a massive A$1 billion television payday, is once again looking across the Tasman to continue its growth.
While much talk in recent weeks of a New Zealand Australian Football League (AFL) franchise has been dismissed as media speculation or bar talk, the AFL's biggest revenue windfall may be used to help secure the future of Australian rules on these shores.
The AFL commission is expecting to shake hands on a new five-year TV deal worth A$220m more than the existing figure - and the need to find new frontiers to keep the TV men happy means New Zealand is likely to take centre stage for the AFL's expansion plans.
The main club drivers are two of the AFL's top sides, Hawthorn and the Western Bulldogs, who played exhibition matches in New Zealand in 2000. While talk then was rife of a New Zealand franchise, little actually happened. However, fast forward 11 years to Bulldogs' plans revealed last month to make Wellington the scene for Australian football's first offshore premiership matches.
With AFL endorsement, the Bulldogs are promoting two matches to the capital for a guaranteed return of A$500,000 per game. Bulldogs CEO, Campbell Rose, has already written to Prime Minister John Key to outline the Bulldogs' vision for fixtures planned for the Basin Reserve in 2012.
"New Zealand is a fanatical rugby country but there is a real opportunity for Melbourne and Wellington to establish a kindred, sister city relationship with Australian rules football," Rose said. "It's easier and cheaper to get to New Zealand than it is to get to Darwin. It's one flight and it provides a whole range of fantastic opportunities that our game could benefit from - not the least being that it would be the first time premiership points would be played for offshore.
"The fundamental idea is to establish a major event of sustainable proportions that creates a sense of occasion."
Hawthorn, the most active AFL club for player recruitment in New Zealand, last year joined forces with AFL NZ to establish a grassroots presence. Hawks president Jeff Kennett recently told the Auckland Regional Council that he envisaged the creation of New Zealand's own AFL franchise within two decades; a view endorsed by AFLNZ's Australian CEO Robert Vanstam.
"The matches could be held during the week of Anzac Day and the cost of staging the games could be recouped through Australians travelling here and local community support amongst school children," Vanstam said. "The name Australian Football League is probably a bit unfortunate when the AFL is promoting the game over here but it doesn't change our aim of providing the New Zealand public with a viable alternative to rugby.
"There are only 15 guys who can play for the All Blacks and 13 for the Warriors so why not have an Australian rules football team with another 20 spots up for grabs? In New Zealand we've got 30,000 kids in the under-12 category playing Australian rules but only about 500 in over 20 category so it's obvious where we need to focus our resources."
Vanstam believes the formation of a future Kiwi Australian rules team would run along the same lines as the expansion of the AFL competition from a 16- to an 18-team competition from 2012 with a Greater Western Sydney (GWS) team added to the new Gold Coast side.
"Realistically a New Zealand AFL team is probably about 20 years away but it could be sooner than that," he said. "Instead of recruiting high profile players such as Israel Folau and Karmichael Hunt, we would envisage the team to be made up mainly of existing Australian players. But there are currently four Kiwi AFL players - three at Hawthorn and one shortly to arrive at the GWS - so they also could be part of a new team which would be initially based in Melbourne but would play regular matches in New Zealand before eventually relocating to Auckland or Wellington."
AFL international development manager Tony Woods admitted that dollars were at the heart of the AFL's expansion into New Zealand but denied it was the only motive.
"Our aim is to increase the AFL talent pool by increasing participation levels," Woods said. "In the business of sport, every organisation wants to increase its revenues but the critical aspect about New Zealand is that we want to make sure the foundations are in place for young Kiwi kids to be presented with a clear and sustainable pathway to play Australian rules.
"Trent Croad - grandson of former All Black Eric Boggs - was a New Zealand superstar at Hawthorn so the critics should just look at what's already been achieved and give the game in New Zealand a chance to establish itself."