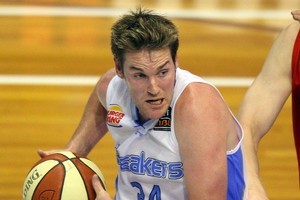 They won't say as much but the Breakers probably got the opponent they were hoping for when the Cairns Taipans yesterday defeated the Townsville Crocodiles to book their spot in the ANBL finals series.
There was an element of poetic justice in the 93-83 game-three result in Townsville, with the Crocodiles having being widely accused of tanking their last regular season game to avoid drawing Perth Wildcats in the semifinals.
That tactic came back to bite the Crocs yesterday, when Cairns role player Daniel Dillon's 21 points led the Taipans to victory to set up a showdown with the Breakers that begins in Auckland on Wednesday night.
Having swept the Taipans in three regular-season meetings, the Breakers will start the series as favourites. They won 93-79 in Auckland in December before completing another home win, 94-88 in mid-January.
In the third match, in Cairns, the Breakers recovered from a 20-point deficit at halftime to snatch a 77-74 triumph on January 30.
Not only have the Breakers had the wood on the Taipans this season, they also appear to match-up more favourably than would have been the case with Townsville.
The Crocs were the only team to get the better of the Breakers during their 22-6 regular season campaign, taking two out of three matches.
The Crocs' defeat also means the Breakers avoid butting heads with seven-footer Luke Schenscher, one of the league's premier centres.
The Taipans' victory yesterday has ensured the finals series will be a Kiwi-fest. The Taipans have three Kiwis - Phill Jones, Lindsay Tait and Gareth Dawson - on their books.
"There will be more New Zealanders than Australians in the final," Breakers forward Dillon Boucher said.
Boucher declined to name Cairns as a preferred opponent, instead saying the Breakers would have been comfortable playing either North Queensland club.
"We are confident," he said.
"We have always said it didn't really matter who we play and to be honest it didn't. We are confident we can beat whoever is in front of us as long as we play the way we did in Game 3 [against Perth].
"Now it is Cairns it just makes the coaches' jobs easier because they know who to prepare for. We'll focus everything from here on in on Cairns Taipans.
"It is going to be a dogfight. We are going to have to be aggressive, be strong and play as hard as we possibly can. We have showed that when we play hard and aggressive we are a very good basketball team."
After game one on Wednesday the Breakers head to North Queensland for a potential decider on Sunday.
If required, the third match will be held in Auckland on April 29.
The Breakers will learn today if centre Gary Wilkinson is available for game one after he was charged with "unduly rough play" during the 99-83 defeat of the Wildcats last Wednesday.