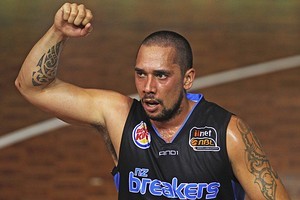 The New Zealand Breakers will play the Cairns Taipans in the iinet Final Series starting on Wednesday night after the Snakes came through a thrilling iinet semi final series, winning game three over Townsville 93 - 83 in Townsville today.
The Breakers have been preparing for their first finals series until now without knowing who their opponent will be, but now that focus can turn to the opposition as well as their own game. Head Coach Andrej Lemanis has plenty of respect for the Snakes ahead of what promises to be a very close series.
"We've had good contests with them in our three games in the regular season, they are a team that gets after you defensively like Perth and I'm sure it will be a fiercely contested battle, one we look forward to."
Lemanis says the 3-0 score line in favour of his side this year counts for little on Wednesday night.
"This is finals basketball, what happened previously really doesn't matter now, this is about the play-offs and how you play these games.
Both clubs have given themselves the opportunity to win their first title so both are in the same position in that regard and will be excited about that prospect.
But as we have seen in the two semi final series already, results before this don't mean too much, it is about playing in the here and now."
Lemanis says in a way Cairns are a similar side to Perth, at least defensively.

"As with any game though you have to look after what they do from a team perspective, there is no one particular player to shut down and therefore shut Cairns down. It comes down to our group versus their group, whoever can put their style on the game is the likely winner, he said."
And of course the Breakers 9 Kiwis will have company with Lindsay Tait and Phill Jones on the Cairns roster.
"You've got to say that is great for Kiwi basketball. The Breakers are in the finals and we have a couple of Kiwis in the opposition as well, that can only be good for New Zealand basketball, Lemanis said."
- Supplied