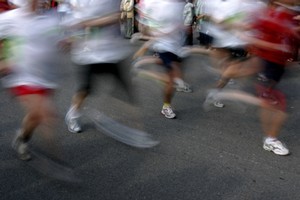 Athletes of all ages and abilities are counting down to the final event in the People's Triathlon Series at Mission Bay tomorrow to see summer off in style.
The series has been held in Auckland since 1998 - making it the city's largest and longest-running triathlon series.
It has grown steadily and now attracts almost 3000 athletes each season in its four events.
Two events are held at the scenic Maraetai Beach in East Auckland and the other two are at Mission Bay.
The priority for the People's Triathlon organisers has always been appealing to the huge number of weekend warriors in participant triathlon and duathlon.
"All events cater to a wide range of abilities and ages enabling participants to race as competitively or non-competitively as they like," said the event's promotions manager, Nicola Carter.
She says the variety of events in triathlon (swim, bike, run) and duathlon (bike, run) formats makes it unique.
"We have 12-year-olds taking part alongside 70-year-olds. It is a great family day out or a goal that someone can set in the diary, train for and achieve."
In all four events this season it has been rewarding for the People's Tri team to see new athletes taking on the challenge, joining some of the veterans of the series.
"Since the first event 12 years ago, we've had people who come to just about every event," says Carter.
"The event is designed not for elite participants, although some elite triathletes do choose to do it.
"It is called Peoples Tri for a reason - it is for the people of Auckland and they love it."
One thousand athletes are expected tomorrow morning, and there will be many races within the races - from the elite to age group titles to simply battles between mates.
"There is always an event option to strive for, and once you take part in the longest event, then there is always a time to beat or a person you want to get across the line before."
Also available are team options, which have proven popular.
Athletes can take part in just one or two of the disciplines and have a friend or family member complete the other part of the event.
Six event options
Try-a-Tri: 100m swim, 10km cycle, 2km run
Sprint Tri: 500m swim, 20km cycle, 5km run
Standard Tri: 1500m swim, 40km cycle, 10km run
Try-a-Duathlon: 10km cycle, 2km run
Sprint Duathlon: 20km cycle, 5km run
Standard Duathlon: 40km cycle, 10km run
www.peoplestri.com.