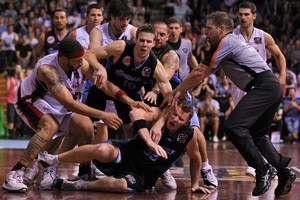 High-scoring Breakers forward Gary Wilkinson was last night awaiting his fate after being charged with unduly rough play in game three of the ANBL semifinals series against Perth Wildcats.
Wilkinson was cited for his part in a second-half melee - along with Wildcats imports Andre Brown and Kevin Lisch - with a suspension for the finals series among the possible sanctions.
Lisch faced the same charge as Wilkinson, while Brown, who was ejected, faces a more serious charge of striking.
While the Wildcats were granted an extension until 7pm on Sunday to address the charges, the Breakers launched an immediate defence of Wilkinson via a telephone hearing at 1.30pm yesterday.
General manager Richard Clarke said Wilkinson receiving a ban was among the possible outcomes, although it was not something he was anticipating.
"I guess it's possible," he said. "But I wouldn't anticipate that that is a likely outcome for this scenario.
"We requested it be dealt with as quickly as possible. Gary has outlined his side of things. What is beneficial is that there is so much vision of the incident - or the tiff as Kirk [Penney] calls it - that it is very clear. There is no grey area in terms of seeing what did happen. It is all on tape.
"From our point of view all three referees were on it at the game. They saw what happened and they didn't even see the need to call Gary for a foul.
"So I'd find it very surprising if there were anything greater than a fine, or even that."
Clarke was expecting to hear back from the league last night or this morning at the latest.
Wilkinson is a vital cog in the Breakers, having contributed 16.1 points per game. Only league leader Kirk Penney has been more prolific for the Breakers this season.
Wilkinson and his teammates will be interested viewers tomorrow afternoon when the Taipans and Crocodiles meet in Townsville in the decisive game of their semifinal series. The winner will play the Breakers in game one of the Grand Final series on Wednesday night in Auckland, followed by game two in Australia next Sunday. If required, a third game would be played in Auckland the following Friday.
Having come back from a comprehensive game one defeat to knock out the defending-champion Wildcats, the Breakers were unlikely to produce such a poor opening effort next Wednesday, coach Andrej Lemanis said.
"I think lessons were learned about how you need to approach game one," he said. "It is going to be a war, no matter who we play.
"The fact you have home court [advantage] doesn't mean anything. You have still got to come out and play at the appropriate effort level."
Now in their eighth season in the league, the Breakers will play for the title for the first time. Their effort has matched that of the 2002 Warriors, who were defeated by the Sydney Roosters in league's NRL Grand Final. The Breakers, though, will enter their own finals series strong favourites to go one better.
"The job is still not done," Lemanis said. "We have got to win two more games. Opportunities like this don't come around too often. When you get an opportunity like this, the main thing is [to] leave it all on the floor."