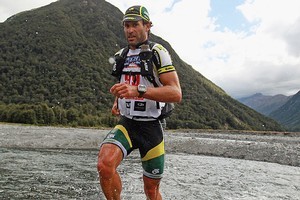 Top New Zealand multisport athlete Richard Ussher is looking at a new focus this year after hard-fought win at the off-road Xterra race at Rotorua today.
The four-time Coast to Coast champion took line honours in the 1km swim, 29km mountain bike and 11km trail run event in two hours 17 minutes and 06 seconds.
In second place, just over a minute behind, was defending champion Scott Thorne (Hamilton), with Mark Leishman of Rotorua third.
"It was a really hard day at the office today, Scott pushed me the entire way, I am really pleased with the win," Ussher said.
He will turn his attention to the Xterra format, including racing in Europe in lead up to the world championships in Maui on October 23rd.
"It's a really good mix of racing for me with the off-road element but still the triathlon structure," Ussher said.
He has twice contested the world championships in Maui, finishing 11th and seventh after bad luck with gear failure and crashes.
"I want to go back and give it a better crack. I have really been working hard on my mountain biking, getting my technical skills up."
Today's win was Ussher's second at Rotorua, following a win in 2009.
It was a different story in the women's race with first-time triathlete, Karen Hanlen, upsetting the women's field with a come-from-behind win.
Hanlen (Whakatane) surprised even herself with the win, especially given her inexperience.
"That was my first ever triathlon and first ever open water swim, I was actually quite scared and only got through the swim because it was the only way of getting out of the water," she confessed.
Hanlen was a lot more comfortable on the ride, making up most of the three-minute deficit out of the water and coming off the bike in second place.
The threat of a trans-Tasman battle in the men's and women's race never came to fruition with both Australian representatives, Ben Allan and Melissa Vandewater ,finding the going tough on the mountain bike section.
Results
Men: Richard Ussher (Nelson) 2hr 17min 06sec 1,
Scott Thorne (Hamilton) 2:18.28 2, Mark Leishman (Rotorua) 2:22.59 3, Ben Allen (Australia) 2:23.24 4, Josh Kenyon (Taupo) 2:28.03 5.
Women: Karen Hanlen (Whakatane) 2hr 42min 14sec 1,
Susie Wood (Nelson) 2:43.20 2, Lizzie Orchard (Auckland) 2:47.18 3, Annika Smail (Rotorua) 2:48.08 4, Fleur Lattimore (Nelson) 2:48.58 5.
- NZPA