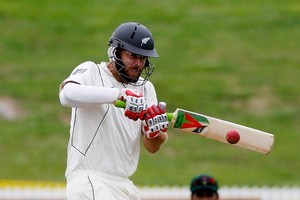 A third candidate for captaincy of the New Zealand cricket team may have emerged and his name is familiar - Daniel Vettori.
The incumbent captain's reign ended when Sri Lanka beat New Zealand in the semifinals of the World Cup.
The consensus is that a two-horse race for the role has emerged between vice-captain Ross Taylor and former deputy Brendon McCullum. However, there is a lobby who feel the idea of twisting Vettori's arm to remain as test captain, while grooming another in the short formats, has merit.
One well-placed source described the Vettori approach as "a long shot" but one worth pursuing.
New Zealand Cricket chief executive Justin Vaughan last night said "anything's possible" and added that any decision would have to involve the soon-to-be-appointed director of cricket, the selectors and coach John Wright.
Vettori could not be reached for comment yesterday.
However, Martin Crowe yesterday reiterated his call for the captain to be appointed now, before the issue is allowed to fester.
He is firmly in the Taylor camp, but believes a swift decision would be best for all involved.
"It's unhealthy for this to drag on," Crowe said.
"It's now a four-month thing which looks like becoming a six-month thing."
Crowe pointed to his own unhappy experience in a leadership vacuum. He was skipper when a knee injury put him out of the game for six months.
In his absence Ken Rutherford became a popular, if not particularly successful, leader.
When Crowe was ready to come back for the 1994 tour to England, debate raged as to whether he should resume the captaincy.
"In the end I felt damned if I did and damned if I didn't. It didn't do myself or Ken any good so in the end I pulled out.
"If this debate continues to drag on, the 'loser' is really going to feel it."
Crowe believes the selectors are there for a reason and it is their job to appoint the captain.
But muddying the waters is the fact this panel - Glenn Turner, Mark Greatbatch and Lance Cairns - is up for renewal and is likely to change.
Few doubt that the panel see Taylor as their man, with Turner and Greatbatch firmly in the Central Districts' batsman's court, but a new panel might mean new ideas around leadership.
"I'm certainly interested in the current panel's thoughts," Vaughan said. "But it is important that the panel going forward makes their recommendation."
The imminent appointment of a director of cricket looms large in any decision. NZC has been in serious discussions with at least three major players - Duncan Fletcher, John Buchanan and, intriguingly, World Cup-winning coach Gary Kirsten - but it appears dialogue with Buchanan has been the most advanced.
"We've certainly talked to him [Buchanan]," Vaughan said. A recommendation is being tabled to the NZC board on Friday.
It is hoped the probable appointment of the forward-thinking - some would argue radical - former Australian coach will create a positive trickle-down effect on other key appointments, though Vaughan maintained that the new selection panel would be the key driver behind the captaincy appointment.
Crowe, who resigned from his post on NZC's cricket committee this week because of what he perceived to be a conflict of interest, described the situation as a "frustrating period" for New Zealand cricket.
"I like to see proactive, positive, decisive decision-making in action.
"It should be simple to name a captain.
"We have three selectors to do that job and they are accountable for that decision.
"But in New Zealand we have to find the alternative way of doing things, we like to have structures that are 'pioneering'."