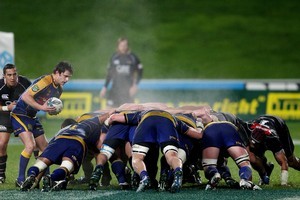 If you asked any of the coaches of the major nations at this year's World Cup to draw up their nightmare scenario, it would probably look something like this:
A knockout game, two points ahead, time virtually up on the clock. Trying to work the ball out of your own half, knock on, scrum, opposition feed. Scrum collapses, ref guesses, penalty against you. Kick goes over, siren sounds, you're fired.
It's almost happened on the biggest stage before.
In the final minutes of the 2003 final, South African Andre Watson whistled a scrum penalty against England - who had been dominant in the set-piece - in the final seconds and Elton Flatley nailed the kick to take the game into extra time.
The IRB is set to announce their panel of 10 referees and two reserves for the World Cup, possibly as early as tomorrow.
It is understood the key area referees' boss Paddy O'Brien has been looking into is the handling of the scrum.
The set-piece, and specifically the policing of the set-piece, could play a huge role in the cup, especially now the rules around the breakdown are clearer (which is not to say they're not still being contravened).
The focus for referees over the past year has been the binding of the loosehead prop.
Sanctions against props who have dropped their hands to the ground and used that arm as leverage to drive up and in on the opposition tighthead have been swift. But there is now a thought that this approach has become too penal, that props who accidentally slip their bind are being penalised before they have a chance to correct themselves.
If there has been a criticism from coaches it is that refs have gone "too rulebook" and have lost their "feel" for the set-piece.
The selected refs, believed to be those that took control of the recently completed Six Nations, have been deemed most capable of handling matches in what will be a white-hot atmosphere.
Take a good look at these names because you can guarantee it will not be the last time you read or hear about them.
Likely World Cup panel: Wayne Barnes, Dave Pearson (Eng), George Clancy, Alain Rolland (Ire), Craig Joubert, Jonathan Kaplan (SA), Bryce Lawrence (NZ), Romain Poite (Fr), Steve Walsh (Aus), Nigel Owens (Wales). Reserves - Chris Pollock (NZ), Jerome Garges (Fr).