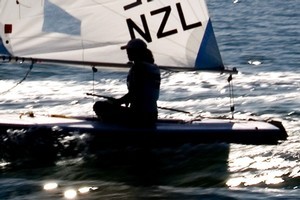 New Zealand women's 470 pair of Jo Aleh and Bianca Barbarich-Bacher mastered tricky shifting breezes to win two races and lie second overall after day two of the Princess Sofia sailing regatta in Palma de Mallorca, Spain.
In light winds between 10-15 knots, Aleh and Barbarich-Bacher triumphed in both races to move up from fourth overall and now sit two points behind the Japanese combination of Ai Kondon and Wakako Tabata.
The men's 470 pairing of Paul Snow-Hansen and Jason Saunders lost their lead in the class after a nightmare day. The 20-year-olds finished 13th in the day's opening race and were then disqualified from the second race after finishing fourth. They now lie 22nd overall.
The news was better for Finn sailor Dan Slater who moved up to fifth overall after a third and second on the water today.
The other big mover was windsurfer Tom Ashley who recorded a sixth-placed finish and a win to move up to ninth overall after starting the day 22nd.
"As promised, a better day today." said Ashley. "Much more reasonable conditions, but more importantly I didn't sail like a 'muppet' so results were much more respectable."
New Zealand's five Laser sailors swapped places on the leaderboard with Andrew Murdoch now the best placed of them in fifth place after a third and second today and Mike Bullot, after a victory in the first race today, is 10th.
New Zealand standings:
Women's 470: Jo Aleh and Bianca Barbarich-Bacher - 2nd (2, 7, 1, 1)
Men's 470: Paul Snow-Hansen and Jason Saunders - 22nd (1, 1, 13, DSQ)
Men's RS:X: Tom Ashley - 9th (34, 12, 6, 1)
Laser Radial: Sara Winther - 17th (11, 11, 16, 3)
Laser: Andrew Murdoch - 5th (5, 6, 3, 2), Mike Bullot - 10th (12, 7, 1, 7), Andy Maloney - 13th (4, 2, 21, 4), Sam Meech - 14th (3, 15, 11, 3), Josh Junior - 57th (6, 8, 18, DNC).
Finn: Dan Slater - 5th (8, 7, 3, 2), Matt Coutts - 20th (11, 9, 30, 21)
Women's Match Racing: Stephanie Hazard, Jenna Hansen and Susannah Pyatt - 4th (Group C: 4 wins
- NZPA