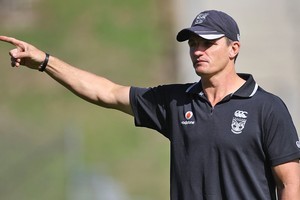 New Zealand Warriors coach Ivan Cleary is backing a call for referees to be less pedantic over the setting of scrums in the National Rugby League (NRL).
The Warriors' 26-18 win over Cronulla in Taupo yesterday was punctuated by breaks in play as the two packs were instructed on how to bind.
The stoppages didn't last anywhere as long as the time lost in the constant setting and re-setting of scrums in rugby union but it was more than some fans could take as they vented their frustration and urged referees Gavin Badger and Brett Suttor to let action resume.
Before the start of the season, NRL referees coaches Bill Harrigan and Stuart Raper gave notice of a "back to basics" approach to ensure fundamental rules were adhered to. Players were told they had to play the ball with their foot, stay onside at restarts and be properly bound at scrums.
Cronulla skipper Paul Gallen said what had happened at scrum time at Owen Delany Park had no bearing on the result against the Warriors, but he felt that play was slowed up too much by the officials' insistence on details such as exactly where a backrower should put his arm around a teammate.
"And it's not only our game," he said.
"There are smarter blokes than me running the game, telling the referees what to do, but it just seems to me to be time wasting."
Cleary said he agreed with Gallen's sentiments.
He understood what Harrigan and Raper were trying to do, "but I think the scrums is a bit over the top".
"One thing that our game has got over rugby is that there isn't a lot of time on scrums," he said.
"Now it's becoming that there is a lot of time on scrums. I don't really see that being that important."
Cleary also believed that players should be given some latitude.
"You have to be fair to players," he said.
"In the heat of battle, they head to a scrum and they're all blowing like steam trains and then get told that, instead of grabbing around someone's shoulders or something, it has to be around their back."
Cleary said that scrummaging wasn't something that league teams traditionally practised in training.
"You might spend some time on the scrum plays or defending scrums, but the scrum itself just hasn't been there," he said.
"The guys are buying into it and they are trying to do it, and I thought that was the idea. They wanted it to look like a scrum. Well I think it looks like a scrum."
- NZPA