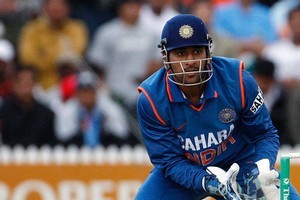 To India the spoils. The World Cup to go with being the game's best test and ODI teams, plus possessing the biggest wallet in the game.
What next? World domination, of course. Install MS Dhoni to run the country and anything might be possible.
The better side won cricket's big show yesterday. They did it by overcoming a couple of setbacks which, if they had been of a more fragile mind, could have undone them.
First, Sri Lanka got rather more than India might have expected after fiddling about early on. They did so primarily courtesy of a wonderful century by Mahela Jayawardene, deserving of a better outcome.
Then India's openers, explosive Virendar Sehwag and peerless Sachin Tendulkar, were knocked over by the bowler sporting the game's most distinctive dyed curls, Lasith Malinga.
At 31 for two, with a couple of kingpins gone, India's players would have been twitchy. There was just a hint that perhaps Sri Lanka might also have taken their eye off the ball for a time, figuring they were well on track for a second crown.
But India bat low down, not that they needed it, courtesy of a typically neat 97 by little lefthander Gautam Gambhir - who doesn't garner the plaudits of some of his teammates but is a hugely effective part of the team - and cricket's most influential player, the captain, MS Dhoni. Strutting West Indian Chris Gayle enjoys Joe Cool status, but Dhoni is the real thing, and his savvy, unbeaten 91 off 79 balls provided an appropriate conclusion to the Cup.
He has a sense of occasion too, as evidenced by his dramatic long shot deep into the crowd to clinch victory.
Dhoni is not the world's finest gloveman. Indeed, he can be a rather leaden-footed stopper.
But he has a sharp brain, doesn't seem to fluster, and clearly has that demeanour which true leaders possess, not to mention the respect from his players that all captains crave but only the best get.
For Sri Lanka, whose odd selections did them no favours, there would be no fairytale finale for Muttiah Muralitharan. Should he have played, with his gammy leg? Sri Lanka were over a barrel on that one. Leave him out and there would be a government inquiry; they stuck with him and it didn't work out.
Instead, Tendulkar, before his adoring home crowd, got the lap of honour aboard teammates shoulders. Richly deserved too.
"He has carried the burden of the nation for 21 years so it's time we carried him on our shoulders," as Virat Kohli eloquently put it, while teammates cried in delight, and relief.
There was no sign of Dhoni being raised high aboard unsteady shoulders. He should have been. If he hadn't been on hand when things got rocky yesterday, India may well still be waiting for the first title since 1983.
India are the game's biggest player. The rest of the cricket world, who seem to walk on eggshells around India for fear of falling out of favour, will now watch how they handle their latest success.
* From winners to potential losers. Forget the top of England's Premier League table, where Manchester United, even spotting Arsenal an extra game, seem a shoo-in for the title.
Instead roll the eyes down the ladder and take a look at the doozy of a dogfight to stay out of the bottom three.
They're the poor saps who will get relegated in a few weeks' time. From playing at the Emirates Stadium or Old Trafford or Anfield, instead they will set their sights on pinching a point or three at Barnsley, Bristol City or Watford.
After yesterday's games, remarkably, nine teams were covered by six points all with either seven or eight games left.
Take yesterday as a pointer to how tight, and topsy-turvy, this scrum has become. There's West Ham United 2-0 up against Manchester United at halftime. Fulltime: West Ham 2 Manchester United 4. Then West Bromwich Albion pinched a late penalty to beat Liverpool 2-1, and jump to 12th, but still not safe.
There's a good chance this won't unravel until the final day of the season - May 22, since you asked.
It could not be better, until your team is stuck in the scrap and you've got a dodgy ticker.