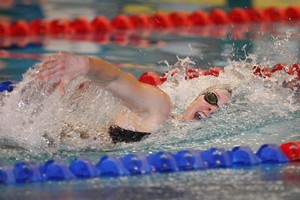 United States-based Lauren Boyle surprised even herself to smash a national record and qualify for the world swimming championships on the opening night of the national championships in Auckland last night.
Boyle joins fellow Commonwealth Games swimmers Natalie Wiegersma and Glenn Snyders as qualifiers for July's world championships in Shanghai, China, after the opening night of finals.
Boyle, 23, has been cramming swim training with five final papers to complete her business degree by May, when she plans to return to Auckland.
She not only smashed the qualifying time for the 400m freestyle; her time of 4min 7.61s was nearly 2s inside her national record set at the Commonwealth Games last year.
Wiegersma was the first swimmer to book her place in the team world championships, winning the 200m individual medley in 2:15.02, ahead of North Shore's Francis sisters Grace and Chloe.
"My coach [Jeremy Duncan] and I will go back and look through the race and see where the mistakes were," she said. "I thought it was okay but really it was off the pace. Still, to be off my best and still qualify for the world championships can't be too bad," Wiegersma said.
Snyders snuck under the qualifying time in the men's 100m breaststroke in 1:01.49, the Commonwealth silver medallist just 0.08s under the qualifying time. He had to work hard to hold off Nic Ferrif and Luke Westgaard.
"The first goal was to qualify for Shanghai and I've done that, but I was not happy with that time tonight," Snyders said.
One of the swims of the night went to 15-year-old Cantabrian Sophia Batchelor, who won the women's 100m butterfly in 59.54 to become the first New Zealand woman to go under the one minute mark.
It broke Liz Coster's national mark and was only 0.19 outside the qualifying time for Shanghai.
- NZPA