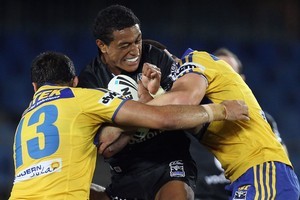 Shaun Berrigan knows the recipe for escaping a form slump. The former Bronco experienced many more good times than bad in Brisbane, but there were still times when things went sour.
In 2003 the Wayne Bennett-coached side lost eight straight games from round 20, while there was a similar run from late 2005 that extended into the following season.
"In rugby league you are one win away from getting your confidence back - but obviously it gets harder the longer you don't taste victory," Berrigan said. "That first win [after a series of losses] is usually a tough, gritty win. At the Broncos we would review the game, realise what we had done wrong and then Wayne [Bennett] would make us put it behind us and we would move on."
Though some would say the Warriors have not always enjoyed the bounce of the ball this season, Berrigan is not one who believes in excuses.
"Sometimes in rugby league, things don't go your way," he said. "People will say you have been unlucky but you make your own luck through hard work.
It is up to us to get things rolling."
From a player's perspective, Berrigan says the raft of changes made by coach Ivan Cleary for today's match casts a dark shadow.
"You feel responsible for the guys that got dropped because it could have been any of you when the team is going bad," Berrigan said. "The whole team has been put on notice."
The Warriors of 2011 have been patchy at best, and there has been a lack of spark, creativity and desperation.
Cleary hopes that will all change today, with his new-look line-up going against his normally conservative nature. But the coach seemed to have a real spring in his step at the media session during the week, like he was relieved to have made changes that he had been wrestling with for a while. Or maybe it was the look of a gambler who had played his final aces.
It is certainly a gamble. Not so much in the changes, but the fact they have been made in key positions like fullback, five eighth and halfback. Glen Fisiiahi wobbled badly against the Eels in round one and will be better for the run - but doesn't have a lot of experience around him in the back three.
James Maloney was one of the better performers against the Dragons but seems to be suffering from the notorious second season syndrome. Now he will take over most of the playmaking duties at halfback, as well as almost total responsibility for the long kicking game. Feleti Mateo has become more involved as the season has gone on, but there are still obvious questions around his aerobic capacity to last 80 minutes.
It will be hard for this new-look team to find instant defensive cohesion and shut out the Sharks, so fans will have to hope that players like Fisiiahi, Bill Tupou, Krisnan Inu and Mateo will help produce plenty of points.
Of everything that Cleary has said since swinging the axe one simple statement - "When you are 0 and 3, changes are needed" - seemed to sum up his mindset perfectly.
"It is all part of the ride," Cleary said. "You are going to get ups and downs and it is how you bounce back that makes your mark."
Berrigan has impressed at hooker, now Cleary has placed him at centre to tighten up the brittle edges the team has displayed.
The Australian has spent an entire career with different numbers on his back and says he will adjust once more. Though it was back in 2006, he once marked Sonny Bill Williams, Mark Gasnier and Greg Inglis in consecutive finals game, so can handle himself out wide.
Today Berrigan will mark Dean Pomeroy, significantly bigger at 1.85m and 97kg.
"He is a big, strong thing who carries the ball hard and is very aggressive," Berrigan said. "When it is one-on-one out wide, it is just about doing your best to get them down."