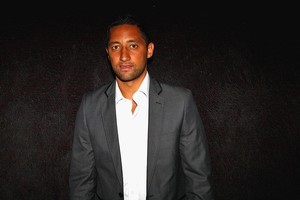 Kiwi rugby league captain Benji Marshall was actually standing up for his girlfriend when he was involved in a fight last month, a new witness claims.
A Sydney man has come forward to say Marshall's girlfriend, Zoe Balbi, was abused by a group of men for 15 minutes before Marshall finally "snapped".
The witness, known as Emmanuel, said Marshall pushed but didn't punch one of the tormenters.
He told Sydney's Daily Telegraph newspaper: "Benji was sitting at a table in the corner with his girlfriend and about four other mates, just minding their own business.
"They [the tormenters] kept calling her a stripper and told him to take her to King's Cross."
The witness said the men followed Marshall from the restaurant and continued to hurl abusive remarks at Balbi.
"Benji was walking away when he finally snapped," the witness told the Telegraph.
"He was walking across Bridge St and just turned and left his girlfriend in the middle of the road.
"He reacted to something one of the guys said, but I couldn't hear it.
"But I never saw him throw a punch. He just shoved the guy and pushed a drink out of his hand. The punch was thrown by someone else."
Marshall is facing an assault charge for lashing out at the man outside on March 4. A man, named as 24-year-old Soliman Naimey, sustained a cut lip. Sources said Marshall intended to plead not guilty to the charge.