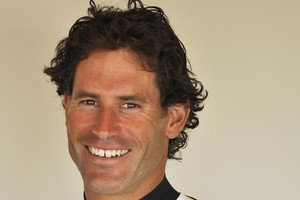 The Xterra series has grown into a global phenomenon. This will be the event's ninth year, and more than 2000 athletes will participate. About 20,000 have taken part in the festival overall. This year's New Zealand series begins in Rotorua next weekend and the Weekend Herald caught up with Coast to Coast champion Richard Ussher and promotions manager Nicola Carter to learn why it is so popular.
What makes the Xterra Rotorua Festival special?
RU: The whole event just has a great feeling about it: great course, great people involved, and it's very laid back. Plus some good racing. It always seems to be close at the front - which is great for racers and spectators alike.
NC: The Xterra Global Tour holds championship events in Saipan, New Zealand, South Africa, the Czech Republic, Italy, Austria, Brazil, Japan, Spain and Germany. Top-ranking athletes from these national championships are invited to compete at the Xterra World Championship each October in Maui, with athletes who qualified in the US series.
The Xterra Rotorua Festival is considered the world's largest single-day Xterra off-road triathlon.
It is also unique in that it offers not only an off-road triathlon (the flagship event) that attracts some of New Zealand's top triathletes but also two off-road running options and a mountain-biking event. The off-road triathlon can also be completed as a team. It is also a qualifying race for the World Xterra Triathlon Championships in Maui in October. This is for both elite and age-group triathletes who race to gain a qualifying spot to represent New Zealand at the world champs.
It is based in a stunning location - can you describe the surroundings?
RU: The Blue Lake area really is gorgeous. The swim is in the Blue lake, which is surrounded by forest and is home to Rotorua's famous MTB trails. The final run takes you twice around the edge of the lake and the start/finish area is always packed with people enjoying the atmosphere.
NC: The Blue Lake is nestled in the redwood forest. It is a majestic site on race morning as the mist rises off the lake and the forest appears from the other side. A stunning running track runs around the perimeter of the lake, popping out on to the lake shores every now and then. It is hard to explain in words just how beautiful the scene is down there.
Why do you think this type of event has become so popular in recent years?
RU: I think mainly that it is achievable for so many people and it is away from the roads. Also the range of events means there really is something for everyone. Plus, with the event taking only half a day it is time-friendly for people.
NC: Off-road events, such as Xterra, have grown a lot. People are realising it is better on their bodies, and most find it a lot more enjoyable with that sense of adventure (rather than plodding round the streets). It is also what New Zealanders are all about - getting out there and having an adventure. People love the format of the Saturday event. Prizegiving is on Saturday evening and then the majority of people stay on and travel home on Sunday. For many, it is a weekend away with friends or family. With so many event options, they all find an event to take part in on the Saturday and then have a great time Saturday night and Sunday. New entrants to the event are always blown away by the scenery and stunning views they get as well. It is a special part of the country.
One of the things that appeals is that athletes of all abilities can take part?
RU: Definitely - that is something that people always seem to comment on at any event where anyone can line up against the top athletes. They enjoy being able to compare their times directly against the top athletes and seeing first-hand the different levels.
NC: Yes, with the variety of event options - there really is something for everyone. People can head away with friends or family and all find an event to take part in. There is even an event set up for kids at the finish line area. The Kids' Zone has colouring in for them to do and also a climbing wall for them to do their own "adventuring" on. The likes of Sarah Ulmer and Hamish Carter have done just that - Ulmer taking part in the 11km run. Carter competed as an individual in the triathlon a few years ago - and then more recently in the team event taking part in just one discipline.
Are you inspired by these athletes?
RU: It's incredibly inspiring to see people out there giving things a go. The great thing about events is that even though everyone is in the same event, they can still have their own personal goals - races within the race against their mates, or a specific time goal. As a full-time athlete, racing is such a part of everyday life, but the challenge of each race is still special, and I think even more so for a lot of people who have worked incredibly hard for often just this one particular race.
Do you have any advice for newcomers to Xterra?
RU: Enjoy - no matter what level you're at. That is what keeps the motivation high. Practise your skills as well as the fitness - there is a lot of time to be had through improving your bike-handling or swimming technique.