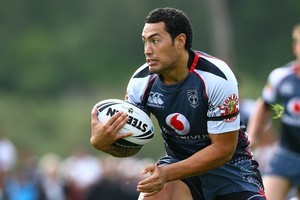 Feleti Mateo's switch from the back row to five-eighth is the centrepiece of the massive rejig of the Warriors for tomorrow's match against the Sharks in Taupo.
Mateo began his NRL career with the Eels in the play-making role and it is his favoured position. Coach Ivan Cleary always intended to try his marquee recruit in the six shirt and, with the Warriors hardly firing a shot so far this season, Mateo's chance has arrived.
One of the better performers in last week's defeat by the Dragons, Mateo will shoulder much of the responsibility for igniting an attack that has been cannon fodder for opposing defences this season.
His 108kg frame and offloading ability should present challenges for the Sharks' defence, with the Tongan captain hinting he would dip into his bag of tricks.
"With the attacking weapons we have in the team maybe we are being a bit conservative, just worrying about completing sets and that's taken away a bit our attacking flair.
We've addressed that. There are a few things we need to tweak and once we get that sorted I think there will be a lot more points on the board."
With hitmen Paul Gallen and Jeremy Smith lining up in the Sharks' back row, Mateo was happy with the timing of his switch. "It is probably a good thing I am out of the forwards this week," he said. "I might stay away from those boys. They are probably the hottest team in the comp right now so it will be a good test for us. If we can roll them then we can put our season on track."
Cleary wasn't expecting Mateo to change his game. "I just want him to play how he plays," the coach said. "Just because he has a different number on his back I am not expecting anything too different. Obviously it is going to change the dynamics of how we play a little bit. I think that is a good thing at the moment."
Cleary's description of Mateo's kicking game as "not a classical one" produced a few titters from the media, but the coach insisted he would be up to the job.
"I'm not actually trying to be funny," he said. "He reads the game well and has a good eye for opportunities, so he can play a part in the way our sets end."