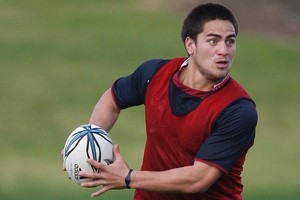 Playing through champions Northcote will begin the defence of their title probably facing more pressure than most of the other frontrunners when North Harbour's club rugby competition starts today.
Northcote have an away match against Marist today, but with a side which bears only a limited resemblance to last year's.
Ian Selwyn, who will again coach the side with the help of former All Black captain Gary Whetton, confirmed yesterday only 12 of last year's 22-man squad remained.
Among those who have gone are prolific scoring first five-eighths Mike Harris, now with the Queensland Reds in the Super 15, and the influential forwards Richard and Mike Mayhew, who are among a large group overseas.
But Selwyn does have some positives for a competition he expects to have many upsets. The Mayhews might be back from England later in the season and his coaching staff has been boosted even further by scrums adviser Slade McFarland, former Harbour hooker.
By contrast, North Shore and Takapuna, two of the sides likely to be Northcote's main challengers, and meeting today, seem likely to again be formidable.
Shore, also with an illustrious coaching staff of Wayne Shelford, Scott Pierce and Frano Botica, will again have outstanding goal-kicker Ben Botica as the backline director and have gained from Takapuna the promising fullback Tim Blundell.
Takapuna will be without long-serving captain Simon Hanlon, but new coach Adrian Donald has recruited well, with Auckland representative Brenton Helleur at halfback and two promising youngsters from Canterbury in fullback Marty Banks and flanker Sam Hayes-Stevenson.
Some spice will be added to Harbour club rugby from those players who have been contracted by the union. These include Codey Rei (formerly of Taranaki), Cory Aporo (Bay of Plenty) and sevens specialists Solomon King and David Raikuna.
However, with representative rugby, because of its July start, removing many earlier than in recent years, they may be of limited benefit to clubs to which they're assigned.
Glenfield, who meet Mahurangi today, have suffered a blow in the transfer of their top player of recent seasons, Jack McPhee, on contract to Northland. But one asset will be the return to the coaching staff of former All Black Walter Little.
Silverdale, with Charlie McAlister back as coach, host Massey today and Western, a combination of the Helensville and Kumeu clubs, have a home match against East Coast Bays.