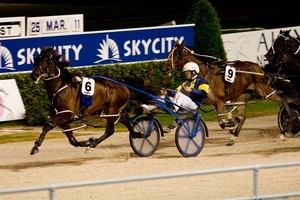 Mr Feelgood will lay his New Zealand hoodoo to rest at Alexandra Park tonight - and might claim Interdominion favouritism along the way.
The amazing pacer has won races as diverse as the Little Brown Jug in Ohio, to the standing start test of a Hunter Cup in Melbourne, an Interdominion in Queensland and a mobile Victoria Cup over 2240m.
But he has never won a race from nine attempts in New Zealand. In fact, in over half those starts he has finished unplaced.
That was when trained by champion Canterbury trainer Tim Butt, who did a remarkable job with the veteran stallion.
However his form since joining trainer-driver Luke McCarthy has been generally more consistent.
But Mr Feelgood's losing streak in New Zealand looks certain to end in the third pacing heat of the Interdom series at Alexandra Park tonight.
"He will win this week, for sure," says McCarthy.
"He will lead and we will just bowl around in 30-second quarters [400m] and he will be too good for them.
"With Themightyquinn drawn to get back a bit the only way we won't win is if my horse performs below his best."
That might sound uber-confident but McCarthy has every reason to be as Mr Feelgood has been perhaps the best pacer overall in Australasia in the past 10 months.
He has retained his very high gate speed yet seems more happy reeling off consistently punishing sectionals in front, a recipe for big race success at Alexandra Park.
While he has been beaten by both Themightyquinn and Smoken Up in his two recent starts on this track, McCarthy says Mr Feelgood is perfect for tonight.
"I knew I would struggle to beat Smoken Up last week so didn't push the issue but you will see a different horse tonight.
"He will handle the track even better against the marker pegs and I can't see him beaten because instead of sitting two lengths off us tonight Themightyquinn might be sitting four lengths off us," he said in reference to their Auckland Cup battle two starts ago.
A free-wheeling Mr Feelgood could drag Monkey King, who should trail him, into the placings and even a quinella spot.
While McCarthy is adamant Mr Feelgood will win tonight, he says his other drive tonight, Washakie, is racing for second to Smoken Up.
"Smoken Up was super last week. To be honest I didn't think he had a 26 quarter in him.
"We will probably lead and win this week but I will go forward and sit parked or take a trail behind Blacks A Fake. Either way, I can't see them going too hard so being handy will be the place to be."
Mr Feelgood and Smoken Up dominate betting so totally it is hard to see a way to earn a decent return on tonight's heats, especially with the co-mingled pools meaning all the late Australian money will come for the pair. A multi bet on the two to lead and win might make the most sense. Or gambling on who you think will draw best in the final.
Because before tonight's heats whoever draws best of Themightyquinn, Smoken Up or Mr Feelgood will probably be the favourite for next Friday's $800,000 classic.
THIRD TROTTING HEAT
7.53pm: mobile 2200m
Make or break for Sundon's Gift (1) and it really should be make. He is a great horse so willing to put last Friday's shocker down to a one-off bad race. If he leads from the ace he is the one to beat but there will be some nervous moments early if Ready Set crossed him. That would play into the hooves of Sovereignty (11) who can win if he gets handy without having to burn. Stylish Monarch (8) was good last week but expect Ricky May to be conservative while Dr Hook (10) will get a good run through and run on but hard to see him winning against his natural racing style. Raydon (12) is a must for trifectas.
Tips: Sundon's Gift, Sovereignty, Stylish Monarch, Raydon.
The punt: Don't take less than $3 on Sundon's Gift; do take anything longer than $4.50 on Sovereignty.
THIRD PACING HEAT
8.50pm: mobile 2200m
Mr Feelgood (1) won't get a better chance to finally win a race in New Zealand. Has been super in last two starts here, has high gate speed and hard to see many challengers. Unless he has to go crazy early looks a good thing. Themightyquinn (10) is flying and so is his young driver but this race may lack the pressure to provide him the slingshot home. If he wins this deserves to be hot in the final. Monkey King (9) is drawn to trail the leader and will get some of the money but hasn't hit the line hard this campaign. Defining moment. Villagem (2) was good last Friday and will be better tonight. Sleepy Tripp (8), Choise Achiever (5) and Franco Jamar (11) could all sneak a first-four placing.
Tips: Mr Feelgood, Themightyquinn, Monkey King, Villagem.
The punt: If you get close to $1.80 Mr Feelgood just keeps putting it on.
FOURTH TROTTING HEAT
9.20pm: mobile 2200m
The chance for I Can Doosit (4) to stake his claim for the final. Needed the run last Friday, should settle handy enough and will be put in the race. Lack of gate speed a little worry so don't go crazy at the short odds. Springbank Richard (2) was good last week, has gate speed and loves sprint racing. Could be on the speed so this suits perfectly. Let Me Thru (13) might be the best trotter in Australasia and does follow out a fast beginner. Might be conservatively driven tonight though and co-mingled pools mean he will provide no value on the tote. Annicka (5) was good enough last Friday and should be better tonight while the blowout for the trifecta is Musgrove (12).
Tips: I Can Doosit, Springbank Richard, Let Me Thru, Annicka.
The punt: I Can Doosit to win, save on Springbank Richard if the percentages make it worthwhile.
FOURTH PACING HEAT
9.50pm: mobile 2200m
Smoken Up (1) has been handed this on a plate and should bolt in. Has high gate speed and the only way he can get beaten is if he is crossed at the start. The only horse capable of doing that would seem to be Blacks A Fake (5) who can really fly the gate. If he got the lead it could be the fairytale comeback but Lance Justice will be watching for that. Washakie (4) was good enough last week to be a great place bet while Power Of Tara (3) is in career-best form and showed good gate speed three starts ago to win over this trip. Smiling Shard (2) needs to go better tonight and should while the sneaky trifecta chance is Pembrook Benny (10) if back to his best, which he wasn't last Friday.
Tips: Smoken Up, Blacks A Fake, Washakie, Power Of Tara.
The punt: Smoken Up as an anchor in all your multis. Nice quinella with Blacks A Fake.