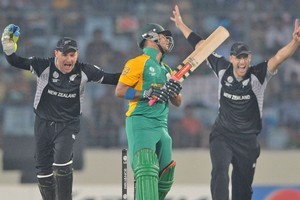 In a knockout game, pressure is a funny thing - even for the best teams in the world.
The Black Caps' brilliant win on Saturday morning all started from making sure the pressure was on South Africa at all times.
If you can put enough pressure on your opponent then they start to doubt themselves and everyone knows that South Africa have chocked in the past. Even the comments in the media before the quarterfinal where they were saying choking wasn't an issue sounded like just a bit of bravado proving the issue was still in the back of their minds.
And the Black Caps were quick to remind the South Africans of it as soon as they got on top. It was a great move to get in the South African faces because they don't like it. They are big on being the aggressors. They pride themselves on stamping their authority on games.
The Black Caps made sure the shoe was on the other foot and since Faf du Plessis made prematch comments about not being afraid of the Black Caps, I'm sure they were reminding him of that at a crucial part of the game when he ran out AB de Villiers.
If he's going to say something in the paper and put himself out there and it doesn't go to plan then he's going to cop a little bit back.
I don't have an issue with a few players having words in the middle of the pitch. Out and out abuse is going to far but sledging it's part of any international sport whether it's cricket, rugby, rugby league, anything. It's just gamesmanship and whether it's done within the boundaries then so be it.
I do however disagree with Kyle Mills getting involved since he wasn't playing the game but it was good to see they were all in it together as one.
The Black Caps just have to watch they don't get wrapped up in the quarterfinal victory that was a great result. However they need to win three out of three to get that World Cup.
So forget about the quarterfinal, learn from what they didn't do as well they wanted to do and take that into the semifinal. That's the biggest test. Even when I played the consistency of New Zealand cricket wasn't where it should be and it's still not. We tend to lose one, win one. If they can get over that on a world stage then that would be a big stepping stone for them.
They have yet to reach their potential which is a positive I suppose. All the other countries that are in the semifinals are sub-continent. That's saying something in itself. I think they've done well to get where they are.
A lot of people have written them off, including myself, not thinking that they would have got this far but they are now two games away from winning the World Cup. The big thing is they haven't put all three facets of the game together in one match. Fingers crossed that comes together in the next couple.
Sri Lanka are going to be very tough to beat but hopefully that performance against South Africa has given our guys a huge amount of confidence. Now it's just a straight one off game and if they can get on top of Sri Lanka at any stage of the game they just need to make sure they stay there.
They don't need to change a lot from the weekend. They just need to get a bigger score on the board and if they can do that then they're in with a hell of a chance.