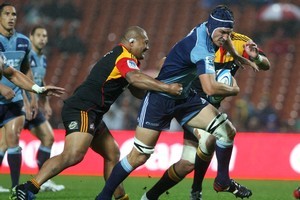 When the call comes to let the air out of the ball, to stuff it up the jumper, half the changing shed breaks into a small smile, and the half wearing higher numbers start thinking ahead to a warm shower.
Put Blues' lock Anthony Boric in the former category.
"Yeah, it suited me," he said of coach Pat Lam's halftime instructions to button down their expansive game and pick-and-go instead.
"We got some good go-forward in and around that area. We could have done it [pick-and-go] even more.
"We can get a bit better in the wet," the 20-test All Black said. "You get used to lovely, dry conditions and when you face something like we did [in Hamilton] you can get a bit sloppy."
That was obvious before the clock had ticked one, with Liam Messam winning a game of foot-rush after Rene Ranger spilled a sitter.
When Sona Taumalolo barged over after 22 minutes to make the score 10-0, it looked a difficult road back for the away team.
Perhaps that's why coach Pat Lam described the win, and more particularly its lack of frilly accoutrements, as "defining".
"It was ugly, but we're happy with those four points," Boric agreed.
"We knew they were going to come out firing. We spoke about last time we came down here they put 60-odd points on us.
"When they scored two early tries we weren't feeling too good, so we're happy with the way we came back.
"We showed it's not always the razzle-dazzle that's going to win it for the Blues. We showed a bit of guts there."
The 27-year-old was playing on a knee still recovering from its hyper-extension the week before. An expansive game was the last thing he needed.
"She's a still a little bit tender. I was bit nervous about it before kick-off but once I got out there and warmed it up it wasn't too bad."
The flesh beneath his right eye was looking a bit careworn, too, all part and parcel of a game that was measured in small and hard-earned gains.
"It was a real courageous effort," Lam said, not only of the panelbeaten Boric, but his entire team.
In a game dominated by forward exchanges, Lam had praise for fullback Isaia Toeava - whose injection at pace off a Joe Rokocoko flick pass led to the Blues' only try - and Stephen Brett and Luke McAlister, who edged their counterparts in the tactical kicking stakes.
"When he runs hard he's exciting, he gets us going forward," Lam said of Toeava. "Both Luke and Stevie controlled the game well."
With the Blues facing the Cheetahs in Whangarei next week, they have a gilt-edged opportunity to string together a rare three-match winning streak.
Between now and then they'll be working on their lineout, which malfunctioned badly at times against the Chiefs, and option-taking.
The scrum looks hale and hearty, putting the Chiefs under immense pressure under their posts as time ran out in the first half. They didn't get the penalty-try reward they perhaps felt they deserved, but "took the sting" out of the Chiefs pack.
It was less dominant when John Afoa left in the second half with a leg knock, but the Belfast-bound prop is not expected to be out for any length of time.