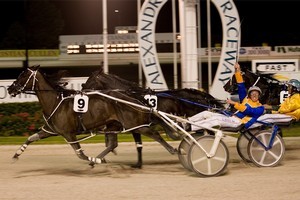 After a long and complex dissection of tonight's crucial Interdominion pacing heat, Gary Hall senior had these words of encouragement for his son, Gary junior.
"Well, I'm glad I'm not driving him," said Dad.
It was hardly the words Gary, universally known as "Junior", wanted to hear as he prepares to partner Themightyquinn in tonight's toughest pacing heat on the opening night of the Interdoms at Alexandra Park.
While nobody doubts Themightyquinn is the pacer to beat in race eight, the Auckland Cup winner is at his most potent when either used briefly early then allowed to take a trail or when driven for one sprint.
But from barrier six, with plenty of gate speed inside him, Junior is unsure what to do over the 2700m.
"If it was the final I'd be going forward and trying to lead or trail," said Hall.
"But the last thing I want is a hard run over 2700m first up and to not win.
"The horse is really well but a lot is going to depend what happens inside me at the start.
"If they all come charging out then I might go back and, from there, I might only finish third or fourth. It is a tricky one."
That is hardly what punters taking the $2 tonight will want to hear and does open a window of opportunity for his rivals as luck and tactics come into play.
That could aid Smiling Shard, the great Blacks A Fake and the value option could be Washakie.
His driver, Luke McCarthy, is adamant he is heading forward to try and lead and stay there.
"This horse is three lengths better than when he finished fourth in the Auckland Cup and I think he can win," said McCarthy.
Strangely, he is not so confident of stable star Mr Feelgood in tonight's first pacing heat.
While he is the horse to beat in the series, he faces a second line barrier while fellow Aussie hardman Smoken Up looks set to roll to the lead early.
"I'm thrilled with my horse but Smoken Up is hard to beat when he leads," said McCarthy.
"I'd expect to be parked outside him at the bell and then it could turn into a sprint from the 400m.
"I still think I can beat him but I wouldn't be surprised if it went the other way."
That makes Smoken Up the one to beat, with plenty of support from him already this week, being backed in from $3 on opening Wednesday to $2 in the fixed odds. On a night where driver attitude will count for as much as horse ability, Smoken Up and Washakie could be the two best pacing heat bets.
Weight of money has seen Mr Feelgood move into outright favouritism for the series title.
The Queensland-trained pacer is now the $3.80 elect for the April 8 final replacing his Auckland Cup conqueror Themightyquinn, who is out to $4. The big week mover has been Smoken Up, in from $9 to $5.50.
1ST TROTTERS HEAT
7.53: mobile, 2700m
Sundon's Gift (9) drawing the inside of the second line changes the face of this race and he is now worth betting against even though he is the champ. Good chance for value is Dr Hook (6) who loves Alexandra Park, is trained by a genius and has good gate speed. Will be hard to catch. I Can Doosit (4) is expected to need the run but loves this trip so obvious danger. Swedish mare Annicka (7) is the enigma. Has huge talent but hasn't raced for three
months so worth risking. Springbank Richard (1) has raced well here before while Raydon (8) is improving and Ima Gold Digger (12) is the blowout.
Tips: Dr Hook, Sundon's Gift, I Can Doosit, Ima Gold Digger.
The punt: Dr Hook (6) each way.
1ST PACERS HEAT
8.50: mobile 2700m
Really is Smoken Up's (6) race to lose after Auckland Reactor pulled out. Should work his way to the front and should win. Mr Feelgood (11) was sensational in the Auckland Cup and is the horse to beat in the series. Likely to have to sit parked here and the only real danger to Smoken Up. Pembrook Benny (1) will get a soft trip and will get big points, could even run second or upset. Villagem (10) is a high-class act and follows out fast beginner so
must for trifectas. Monkey King (8) was only all right in an unsuitable Auckland Cup and likely to get back here.
Tips: Smoken Up, Mr Feelgood, Pembrook Benny, Monkey King.
The punt: Back Smoken Up, cover on Mr Feelgood if he drifts to $4.50.
2ND TROTTERS HEAT
9.20: mobile 2700m
Let Me Thru (3) should win. Has gate speed, was superb here last start and should be improved. Hard to see him beaten. Sovereignty (8) is as good as any in the series but from this barrier might be driven to get the best points possible, maybe parked last lap. Wait for next week for him. Stylish Monarch (5) is a classy professional and likes the mobile so danger if the favourite is off his game. Danny Cash (13) is an emerging Aussie but tricky test new
to this track, while Master Bomber (1) will get the run from the ace and worth a trifecta ticket.
Tips: Let Me Thru, Sovereignty, Stylish Monarch, Master Bomber.
The punt: Let Me Thru if an unlikely $2 or better, but more likely take the 3/1-5-8/1-5-8 trifecta.
2ND PACERS HEAT
9.50: mobile 2700m
Auckland Cup winner Themightyquinn (6) has options but best when he doesn't burn too hard early so is no certainty and will be short on the tote. Smiling Shard (2) is fit and ready and this could be his chance at upset. Blacks A Fake (7) is Blacks A Fake ... enough said. Washakie (5) gets a chance to go forward and try and control the race. Shapes as the value. The under-rated Sleepy Tripp (3) is invariably close up in big races and along with Choise
Achiever (1) and Power Of Tara (9) adds to an intriguing heat which could throw up a decent trifecta.
Tips: Themightyquinn, Smiling Shard, Blacks A Fake, Washakie.
The punt: Try Washakie each-way.