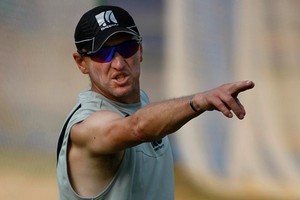 The form odds are against New Zealand progressing beyond the quarter-finals at the World Cup but history suggests South Africa might find a choking tag harder to overcome.
Since their return to international cricket in 1991 the Proteas have not gone beyond three semifinals in five World Cups, despite often being predicted as winners.
New Zealand can seize on two contrasting incidents to make South Africa's anxiety work in their favour.
The first is that Allan Donald, one of South Africa's best post-apartheid cricketers, is employed as New Zealand bowling coach. The team needs to find out from him how to best manipulate South African minds.
Motivation could also come from one of New Zealand's greatest one-day international innings.
Stephen Fleming made a better than run-a-ball 134 not out against South Africa at the Wanderers in 2003. He dispatched Donald, Shaun Pollock and Makhaya Ntini to see New Zealand home in a rain-affected match by nine wickets, chasing an adjusted target of 226 from 39 overs.
Dan Vettori, Jacob Oram, Brendon McCullum and Scott Styris also played that night. One of them might explain to the current team the grit Fleming demonstrated.
It ultimately took New Zealand beyond pool round elimination after forfeiting the match to Kenya in Nairobi for security reasons.
Such a yarn might plant a seed in younger minds like those of Ross Taylor, Jesse Ryder and Martin Guptill as to the World Cup legacy they can leave.
As with any achievement in life there comes a point when talking needs to translate into doing.
It reflects the Wright mantra "you can't coach want".
Oram alluded to that in his comments discussing a New Zealand team huddle at Wankhede Stadium two days after the rout by Sri Lanka.
"We can have a thousand meetings and net practices but it comes down to individuals wanting to do the job," he said.
"The talent isn't in question. It's just a matter of expressing it.
"Our record last year [the 4-0 ODI loss to Bangladesh] was terrible but that is gone, it is a completely new opposition.
"Dwelling on that is not the right frame of mind going in.
"I also think playing in Bangladesh may suit us. The [low and slow] nature of that Dhaka wicket negates the out-and-out pace of Morne Morkel and Dale Steyn.
"However, it also brings their spinners into play. We've got to do our scouting and look at the computer to make sure there are no surprises."
Huddles and pep talks aside, Wright's message has been more direct: "If we don't score plenty of runs we'll go home.
"That can sometimes be a simpler message than a long-winded one."