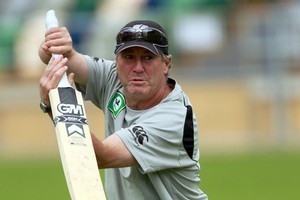 If John Wright ever has a pie graph made showing the amount of time he spends talking about batting and cricket versus everything else it could well end up looking like Pacman.
However, he is sick of talk. Now he just wants his batsmen to score runs; against South Africa on Friday in their World Cup quarter-final in Dhaka.
The New Zealanders have not reaped much reward from the Dhaka wicket of late after suffering a 4-0 loss to Bangladesh there in October. They produced totals of 200 for eight, 173, 232 and 171 - batting out their overs (37) just once in a losing chase for 229. A Kane Williamson ODI century was the highlight of the series.
To make matters worse it has been hard to get a gauge of the wicket. India posted 370 in the opener to beat Bangladesh by 87 runs; the hosts then made 205 to Ireland's 178 and South Africa - with the advantage of already playing there this tournament - scored 284 before dismissing Bangladesh for 78.
That last result holds fear for New Zealand's batting. South Africa has a useful spin and slow bowling attack; new leg-spinner Imran Tahir (12 wickets at 9.83 with an economy rate of 3.86), left-arm orthodox Robin Peterson, off-spinner Johan Botha as well as Jean-Paul Duminy and Faf du Plessis to chip in overs if required. Add in New Zealand's capitulation for 153 to Muttiah Muralitharan, with help from Ajantha Mendis, in Mumbai and there are problems.
We have heard big batting talk before from the New Zealand camp at this tournament but seen it just once against Pakistan among current test-playing nations. The total of 358 for six against Canada was another example where Wright's "no more than three wickets by 35 overs" plan worked.
Wright has stressed that "you can't coach want" but to paraphrase Queen lead singer Freddie Mercury, he wants it all; and he wants it now against the Proteas.
"You just want batters who are desperate to make runs and want to work on their games to make themselves better. It's frustrating when you see the same errors repeated.
"We have to be realistic. We don't have any top ODI batsmen in the world [South Africa have four in the top 20 - Ross Taylor is 20th]. But these guys are capable of getting hundreds. They've done it against the Zimbabwes and Canadas of this world, it's just now they're facing better attacks."
One who Wright would like to see get a hundred is Jesse Ryder who has had a lukewarm tournament with scores of 25, 38 and 19 on the back of a ton at Eden Park against Pakistan before he left.
"Taylor is batting better than at the start of the tournament. [Martin] Guptill is making progress. But it would be nice to get something out of Ryder. We will also look at moving [Scott] Styris up to five."
That could mean curtains for James Franklin's tournament if he's not shifted down the order. Given the slow nature of the Dhaka deck, Wright has touted Luke Woodcock as having his best chance of starting but it would be a rarity for New Zealand to go in with three front line spinners. Skipper Daniel Vettori and Kyle Mills are expected to return.