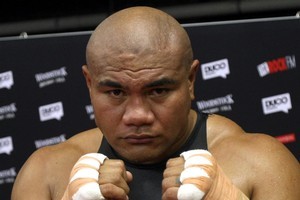 The promoter behind the David Tua-Shane Cameron Fight of the Century, Duco Events, hasn't ruled out linking with Tua again to organise more big money prize-fights in New Zealand.
Tua's comfortable points victory over Demetrice King in Manukau on Saturday night marked the end of a three-fight deal with Maori TV.
Duco director David Higgins admitted that development could see his company again link with the now 38-year-old Tua as he attempts to negotiate a second challenge for a world heavyweight title.
Duco broadcast the Tua-Cameron fight on a pay per view platform, generating the income to pay the fighters $500,000 each in what was the richest prize fight in New Zealand history.
But over 18 months of stagnation since his explosive victory over Cameron, during which Tua has fought three journeymen - drawing with Monte Barrett and beating King and Friday Ahunanya - his brand has suffered.
"There is a rebuilding job to be done, no question," said Higgins, who was a spectator at the Manukau Events Centre on Saturday night.
"He's still a viable prospect, it just depends what that is."
Bringing a top 10 or big name opponent such as Evander Holyfield to New Zealand - something Duco had hoped to do but withdrew from, citing Tua's prohibitive contract with Maori TV - was still possible but would be a risk now that Tua's stock had fallen.
"Organising big fights isn't voodoo, it's just about money," Higgins said.
"Someone would just have to throw down a big chunk of money and roll the dice."
Top-ranked fighters such as Chris Arreola or Samuel Peter, oft-talked about as potential opponents for Tua, would come considerably cheaper than the $500,000 Duco paid Cameron.
The difficulty for potential promoters will be in estimating Tua's box office appeal. There was plenty of self-congratulatory talk during Saturday night's broadcast as Maori TV celebrated the end of its four-year relationship with Tua. However, the reality is that, over that span, Tua has had one meaningful bout and one big payday - both against Cameron when he negotiated a temporary release from his Maori TV contract.
Tua's next move will be intriguing. There is some talk of a rematch with Barrett in New Zealand in July followed, hopefully, by a world title eliminator later in the year. With Barrett having dropped Tua in the final round of a fight many believe should have been judged a defeat for Tua, that bout will have some appeal.
But whether it will take Tua any closer to a title shot is debatable.
Unlike the statuesque King on Saturday night, time is not standing still for Tua. Small-beer fights against virtual nobodies are getting him nowhere. Linking with a promoter such as Duco would appear to be his best shot at fulfilling his dream of a title fight, however it is unclear whether Tua would work with Higgins again.
Of course, in boxing, money talks. It will be interesting to see who is talking to whom in the coming weeks.