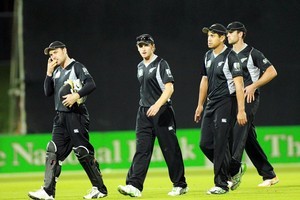 Best Headline
"The choke is on India" in the Hindustan Times after India lost to South Africa despite being 267 for two on their way to setting a total of 296 all out.
Hugo Boss - didn't he open for the batting for Rajastan?
The Black Caps had an allocated day off on Tuesday. So what did the team do to soak up Indian culture in their rare spare time? Tour Mumbai's Victorian architecture? Visit a Bollywood film set? No, they went to a mall - an air conditioned mall called Phoenix Mill - with local shops like Burbery, Hugo Boss and Diesel. In their defence, if they'd gone anywhere else they'd probably have been mobbed.
Instead they shopped while Indian patrons queued overlooking balconies in the multi-storeyed complex for a glimpse of their heroes being asked for their shoe and clothes sizes.

Baggage a bane for Kane
Kane Williamson may have taken a front seat in the team with his first XI appearance against Canada but he is
also doing that on the team bus. Old school rules apply, meaning the likes of skipper Daniel Vettori and other senior players gravitate towards the back.
"I sit up the front," Williamson says wisely. "It's not a spoken rule but it'd be frowned upon if I sat down the back. You'd set yourself up and I try to avoid that."
However, now he's not the newest recruit, the 20-year-old thought he might have got out of duties like 'physio helper' and 'baggage handler'.
Instead he is still being lumped into it, this time with Luke "The Sherpa" Woodcock.
"I've had it for four tours now. I can't wait for someone younger to come in," he joked. It'll probably be a while yet, Kane.
Hit Irrigation (one letter short, but still...)
Whatever is used to water the Wankhede Stadium turf is not pleasant. The Black Caps practised as the sprinklers pumped out either industrial strength liquid fertiliser or the diluted takings from the Mumbai sewerage system. Don't expect too many courageous dives to save boundaries once teams have practised within a whiff of that.
Sixes are back
New Zealand had put away the 'crash and bash' approach at practice ahead of the Zimbabwe match in Ahmedabad but it was back ahead of Sri Lanka. Coach John Wright had clearly relaxed the six-and-out policy as balls pummelled the stands at Wankhede Stadium. Locals were dispatched to retrieve the balls from between the seats and down the aisles. Stand-in captain Ross Taylor said the logic was simple: "There is no swamp outside the ground here to lose balls. The guys bat in a game situation for the first 20 balls then get a chance to express themselves by hitting out towards the end."
But were there any pork pies for Gatts?
If you've got time to travel across Mumbai (8km equals half an hour and $6 by taxi) the Aer bar 34 floors up on the roof of the Four Seasons Hotel takes some beating.
Walking in the door early in the week means the usual $50 cover charge is waived and you're sitting with a beer ($8) on plush couches amidst former cricketing greats Barry Richards, Sanath Jayasuriya MP and Mike Gatting (who are all working on television at the Cup) and some Bollywood glitterati.
Good Week: Hiral Patel
The 19-year-old Canadian opener went out of the World Cup with a blast - bringing up his maiden ODI 50 (off 37 balls), including an outrageous back foot drive for six off a 152km/h delivery from Shaun Tait. Australia won easily, ending Canada's Cup, thanks to a 94 from Shane Watson and 88 from Brad Haddin.
So another good week for Watson, who looked Australia's talisman as they chased their record 35th straight World Cup win against Pakistan last night. Not so good was skipper Ricky Ponting. Another failure with the bat and he got snakey with Steve Smith as they collided when Ponting was taking a catch.
Bad Week: Mahendra Singh Dhoni
Well, not really, if you consider he is eight months into a two-year endorsement deal worth about $57 million.
That means you can't walk down a street or watch a television for two minutes without being bombarded by his image selling something. However, responsibility comes with fame and fortune.
After India's capitulation to South Africa - losing nine wickets for 29 runs and getting beat with two balls to spare - he is facing the heat from fans and a host of fair-weather commentators. His leadership future seems marginal at best if they don't emulate the class of 1983 and win the World Cup.