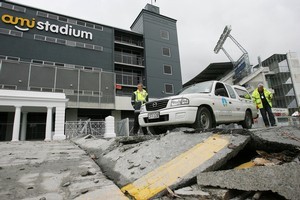 The decision to pull out of Christchurch could cost World Cup organisers between $2 million and $4 million.
That is just an estimate at present, with no official word yet on the financial impact - but it seems almost certain the earthquake will add to the tournament's losses.
Tournament organisers were forecasting an overall loss of $39 million based on their goal of selling 1.45 million tickets out of a possible 1.65 million. As of December, they had sold 864,000 tickets which would provide revenue of $166m.
By shifting the scheduled quarter-finals out of Christchurch to Eden Park, an extra 30,000 tickets become available due to the Auckland ground's greater capacity. It has 60,000 seats compared with AMI Stadium's 45,000.
But, because AMI Stadium was the second biggest capacity ground, the pool games will all go to smaller venues. If the five pool games are shifted to Dunedin, Invercargill, Nelson, North Harbour and Wellington as predicted, there will be 83,000 less seats across those five games.
The financial impact of a nett total of 53,000 fewer tickets is hard to gauge but it is likely to be between $2 million and $4 million. That is based on an estimated average ticket price of $40 but exact costs will not be known until later.
Ticket sales are the only source of revenue Rugby New Zealand 2011 can generate.
The Herald on Sunday understands those who have already bought tickets and corporate hospitality to the quarter-finals due to have been played in Christchurch will have those prices honoured.
It is not known whether refunds will be offered for the pool games as most of the AMI Stadium tickets and packages are in excess of those being charged at the new venues.
However, based on available ticket sales figures, it looks as though all those who have bought tickets already for games which will be shifted will be able to gain access to the new ground, even if it is smaller.