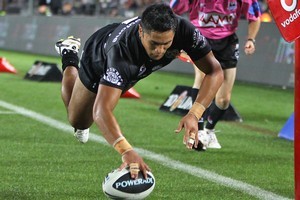 Jerome Ropati, the standout performer in Saturday's Eden Park disappointment, has revealed that the mystery infection that ruled him out of last season's finals defeat on the Gold Coast had threatened to wreck the start of this season.
Ropati battled a groin injury over the latter rounds last year but was expected to be fit for the Titans match.
However, he was scratched by Ivan Cleary on the eve of the match with a shoulder injury the coach struggled to define.
Ropati's shoulder had been fine one day, the next day it wasn't. That was about all Cleary could muster.
Five months later, Ropati still struggles to explain exactly what happened. The problem was a skin infection that travelled deep into his shoulder tissue. It was so rare his doctors hadn't encountered it before. He couldn't even recall its name, but surgery was required to clean it up.
"I just wanted it out and they got it out," he said.
But the unusual nature of the infection meant doctors couldn't put a timeframe on his recovery. The worst possible case was that he would miss the first two months of this season.
Thankfully for Ropati and his already injury-depleted team, that didn't happen. The senior back in the team alongside Lance Hohaia, Ropati looked in full fighting trim against the Eels, switching seamlessly on to the injured Manu Vatuvei's wing and notching two sharply taken tries.
"I felt good," he said. "My fitness was good. Strength was an important factor going into that game and that was good. So I'm happy with how I started."
Krisnan Inu had already been slated to replace Vatuvei on the left wing but, with Glen Fisiiahi failing a concussion test after a huge hit from Eels hooker Casey McGuire, the Warriors have also called up Kevin Locke.
The high-powered combination of Feleti Mateo, Ropati and Vatuvei will have to wait, but the Warriors will still be deadly on the left edge.
Inu might lack Vatuvei's raw power but he is strong in the air, so the Warriors will still aim plenty of kicks in that direction. On the ground the pet play that produced two tries for Ropati from Hohaia passes will still be a favourite.
"It is something that has worked for us that last couple of years," Ropati said. "We are running good lines and Lance has got a good long ball on him. There are still a few things for us to clean up in that area but we'll keep using it if it works."
With their defence holding firm against the Eels despite a mountain of possession against them, the main thing the Warriors needed to improve was their ball control, Ropati said.
"We know we can rely on our defence and that has given us a lot of confidence.
"The key things that we can take into this game that we didn't do in the last game are holding the ball and discipline. They are things we can easily fix. Our defence was good and our wrestle and our commitment around the ruck was good. There are a few little changes we need to make, but I think we are in good shape.
"If the guys had it all over again we would have done it different and held the ball a bit more [against Parramatta]. But that is a game of footy - you only get one chance."
The Tigers have injury issues of their own. Backrower Liam Fulton is out for up to six weeks with a shoulder injury, while Gareth Ellis is also in doubt with an ankle injury.